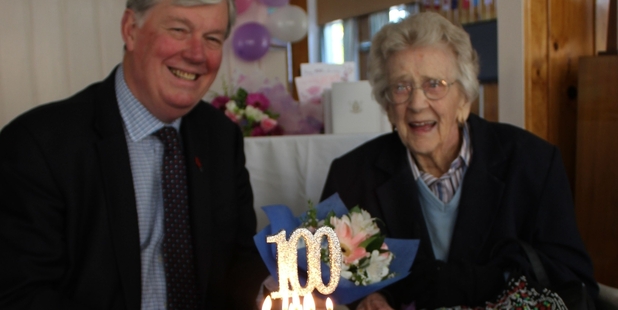 For Jean Simmonds her 100th birthday seemed like "just another day".
Mrs Simmonds, a former Te Rehunga resident, has been living at Rahiri Rest Home since January 2009.
"It's very nice here, something special," she said.
"I've been very lucky, I've had a very full and happy life and it doesn't seem like I'm 100, it just seems like another day and I don't feel any different from yesterday."
Joined by Tararua District Mayor Roly Ellis for her birthday celebrations last Friday, Mrs Simmonds was also looking forward to a visit from her only child, son Graeme from Auckland, on Saturday.
A keen bridge player Mrs Simmonds had a hand in starting the local bridge club and it was something she thoroughly enjoyed.
"I was also a very keen gardener," she said.
Mrs Simmonds said the secret to her long and happy life was simple.
"I'm not a worrier. I just let things go over my head if necessary. I'm just a normal creature who loves life."
A keen singer Mrs Simmonds joins in all the activities at Rahiri, facility manager Lesley Nilsson said.
"She has a shampoo and set with our hairdresser every Wednesday morning and is a valued resident," she said. "Jean is also a great singer and knows the words to all the songs when we have sing-alongs."
Mrs Simmonds said she inherited her love of music from her mother who was an accomplished singer.
"My brother was one of New Zealand's best singers too."
Mrs Simmonds continues to have a regular manicure and loves having hand massages.
"Staff spoil and pamper me," she said. "There's really no secret to living to 100, other than being a happy person."
One highlight in her life at Rahiri are the regular trips around Dannevirke with staff and other residents, Mrs Simmonds said.
"I can look out of the window and see many familiar things I've known for years," she said.
There are 48 other residents at Rahiri, along with others occupying five villas - all cared for by a staff of 55.
"Some of our staff have been here 30 years and we work as a team," Ms Nilsson said. "Everyone has their hearts in the right place and it's a privilege to be caring for the lives in our hands, including Mrs Simmonds, a delightful woman."
An old-fashioned lady, Mrs Simmonds said she will be writing thank you notes to all those who sent cards for her birthday, including Prime Minister John Key.