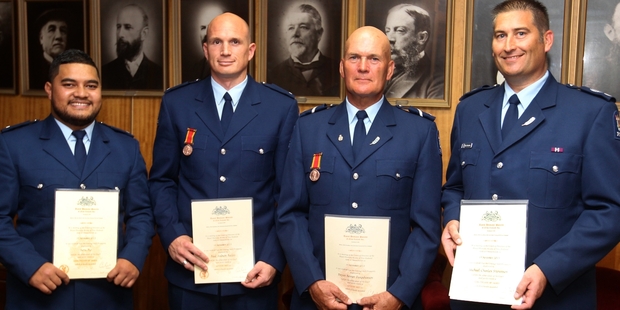 Eight people who helped save two lives in dramatic sea rescues in Hawke's Bay last year were honoured at a special ceremony.
The eight received Royal Humane Society bravery awards in the form of medals and certificates and were hailed for their selfless and heroic actions at the Napier City Council Chambers yesterday.
Also on the list was a ninth recipient - but tourist Julian Mantoan had returned to Germany.
Four of the awards resulted from the actions of police officers who took on huge breakers on Napier's Marine Parade on March 10 last year to rescue 12-year-old Joshua McQuoid.
Senior Constable Bryan Farquharson and Constable Paul Bailey were presented with Bronze Medal awards by Napier Mayor Bill Dalton while Senior Sergeant Michael Stevenson and Constable Setu Pio received Certificates of Merit.
Mr Mantoan was also involved in that rescue.
Constable Bailey said it was effectively part of the job.
Mayor Dalton described the actions of all involved as "remarkable" and that it gave him a "great deal of pleasure" to acknowledge the recipients before a crowd of about 50 friends and family.
The rescues were, he said, dramatic.
On March 10, around 5pm, 12-year-old Joshua McQuoid was standing with his back to the sea when a large wave knocked him down and dragged him out. As people nearby made urgent calls to police for help German tourist Julian Mantoan dashed into the surf and was able to reach the boy.
Mr Mantoan had difficulty swimming with the use of one arm and lost his hold of the boy and was unable to continue and only just made it back to shore exhausted.
Senior Constable Farquharson was the first officer to arrive and ran into the surf.
He was unable to get to the boy as the waves had become too fierce.
Constable Bailey then arrived.
He dashed into the surf and was able to reach the boy, grabbing him, trying to push him closer to shore and was able to reach Mr Farquharson.
They grabbed each other but with the force of the undertow lost their grip and Mr Bailey with the boy ended up tumbling under the waves again and lost his grip several times, ultimately losing sight of him.
Joshua had been underwater for about 20 seconds when Mr Bailey felt him brush against his leg. He grabbed him.
Constable Farquharson called to bystanders to form a human chain to drag them out.
A chain was formed with Mr Farquharson, Constable Pio and Senior Sergeant Stevenson who also entered the water.
When Constable Bailey saw the chain he pushed the boy forward on a wave towards it and Joshua was caught and passed back to the beach.
The youngsters was treated by paramedics before being taken to Hawke's Bay Hospital.