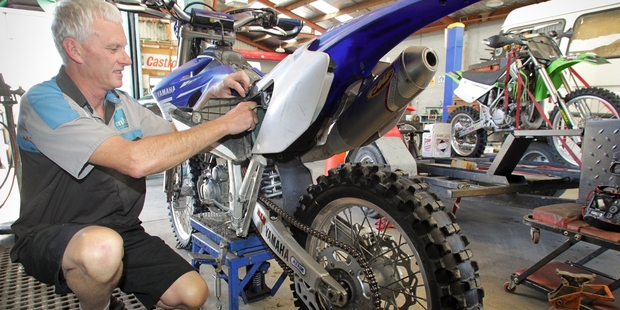 Eighteen months ago Hastings off-road motorcycle enthusiast and mechanic Shane Sinclair got a close-up look at the Lowe Corporation rescue helicopter.
He even got to take a ride in it - a ride he had not planned to take but one he had no doubt helped save his life.
His shoulder was shattered along with several ribs, and one of his lungs was punctured.
"I just couldn't breathe - I couldn't get any air," he said yesterday as he prepared to say "thank you" in his own way.
That "way" is a social off-road motorcycle ride across the farmlands and fields of Kereru west of Hastings tomorrow where the participants, like Mr Sinclair, will not only enjoy the riding but will do their bit for the rescue helicopter service.
"I started thinking about doing something like this back when I was in hospital," he said.
The crash happened in November 2012 while he was checking out a trail which was being prepared for a fundraising ride for the Kereru School.
He had been on a mate's bike and said he simply "got it wrong" and applied too much front brake which sent him tumbling.
"It was an absolute freak the way I landed."
The moment the dust settled he knew he was in serious trouble and his companions quickly called for help, with the Lowe Corporation crew getting airborne a short time later.
"So I was choppered out."
Mr Sinclair said the damage to his lung meant time was critical, and he believed he could have died had the rescue crew not been around to quickly get him to Hawke's Bay Hospital from the isolated accident scene.
From that time, and after being discharged from hospital, he had thought about staging a fundraising ride - as he had been involved in several for the rural region's schools.
He said the 37km loop course laid out for tomorrow's ride featured A sections for more advanced riders and B sections for the rest.
"It's designed to be a good family day out for riders of all ages and abilities ... and we're putting on a bit of a barbecue lunch."
He is hoping to attract at least 200 riders but would be "rapt" to get 250, as that would result in around $5000 being raised, and if the schedule allows he is hoping the rescue helicopter will call in at lunchtime.
Tomorrow's ride starts after 10am from Gull Flat Rd in Kereru, and will be signposted from Maraekakaho. It is $30 for adult riders, $15 for intermediate and $10 for youngsters.