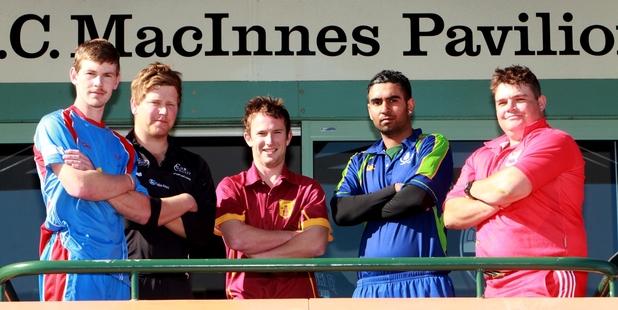 Nothing takes the effervescence out of a pint quicker than a defeat hours before the season-ending prizegiving ceremony.
"It's demoralising on the last Saturday, turning up at the prizegiving having lost the last game because it takes the gloss of it," says Complete Flooring Napier Technical Old Boys (NTOB) player George Diack.
Both second-placed NTOB and top-placed Heretaunga Building Society Cornwall CC have their prizegiving tonight only minutes after they'll know who will be the Pay Excellence Hawke's Bay premier men's limited-overs champions.
The final is from 11am at Nelson Park, Napier, today on pitch No 3.
NTOB are the defending champions and veteran Diack reckons his coach-less side will be their top XI of the summer, bar Craig "The Big Red" Herrick who left for England mid-season.
"We have enough talent in our side to do it [coach] ourselves," he says of the 2013-14 overall champions.
With the Smith brothers, captain Jacob and Jarrod, in good form he expects a royal battle in a befitting end to the summer when rain is forecast to stay away, negating any fears a washout will hand the title to Cornwall as top qualifiers if it persists.
"It's finals time, mate, so it's winner takes all," Diack says, highlighting the silverware is sought after in its own right despite many rating the overall champions status higher.
"We've won many overall titles but we've only won the one-dayers 26 times in the 100 odd years."
With the covers on the wicket, he says the strip of prime real estate will be "very good so we're raring to go" although he stops short of saying it's a win toss, bat first one.
"We'll have no complaints about the surface at Nelson Park [NTOB's home ground and HBCA's official one too] which will be hard and fast so if we can play how we do then we'll win," he says, in a competition where the top qualifiers don't have home advantage.
With bolshie opener Indika Senarathne showing intent but not going on this summer, he feels NTOB have enough seasoned campaigners who have the ability to stand up for the big games.
"If Indi [Senarathne] comes on like he did a few years ago against Napier Old Boys' Marist then we'll be in for some fun," he says.
Nevertheless, Diack believes the likes of Bronson Meehan, Morton Freer and even tail-ender Josh Paerau have the credentials to deliver with the bat.
"Josh is our No 10 but he'd be batting at No 5 in most clubs so we bat a long way down."
Diack says seamers Stevie Smidt and Liam Rukuwai (back from shoulder injury) will spearhead the bowling attack with triple-spin attack of Freer, Andy Thompson and Jayden Lennox bringing in the rear guard.