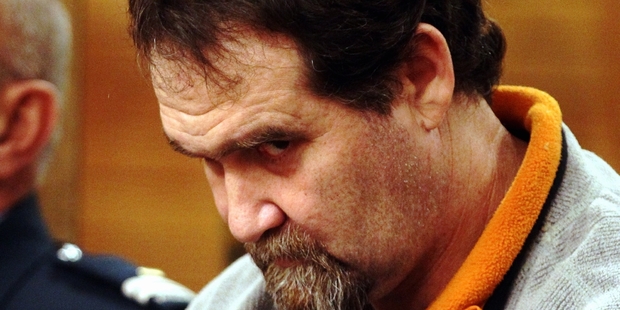 Every time the parents of "depraved paedophile" Aaron John Ellmers visit him in prison they seek answers, but leave with anger, confusion and shame.
Convicted Hastings paedophile Aaron Ellmers, 42, described by a local detective as the worst case he had ever seen, was sentenced last year to 20 years in prison, since reduced to 15 years, after pleading guilty to 60 charges related to sexual offending against children and possession of child pornography.
His parents, who wished not to be named, told Hawke's Bay Today their son's actions which included stupefying, making an intimate visual recording and offering to pay $500 to have sex with an 18-month-old baby made them "physically sick to the bones".
His father recalled the day a pair of detectives knocked on his door and broke the news of the truck driver's arrest in Christchurch and the charges he faced.
"I didn't believe it, I was a mess, I just couldn't pick it," he said. "They told us what he had done but initially left out the fact about the baby. It was only the second visit from the detectives when we were told that, and it got to me, it tore me up. It still gets me."
The reality of a "very dark background" sent Mr Ellmers into despair, ultimately requiring medical help.
"I was bottled up for a whole year after I first found out and wanted nothing to do with him," he said. "I went off the rails, I couldn't get away from it all.
"And we had him in our house for three months while he looked for a job. If I knew what was going on I never would've let the paedophile in the house."
Selling Ellmers's car and most of his possessions, the family home has only a few photos of the 42-year-old left, while what possessions have been kept were packed away into the shed.
Mrs Ellmers described him as "not a very open child" who didn't have a great many friends growing up, but she never could have imagined the "sickness" in her son nor did she see any signs.
"He used everyone," she said. "I know it's a sickness but where has it come from?"
A brief moment was engraved in her mind. She remembered children's shoes in Ellmers car one afternoon and questioned him where they came from.
"He said they belonged to one of his friend's kids who left them there after they all went down to the beach. Looking back now they were probably the shoes of one of his victims."
"He always had a bit of an attitude when he came around here, he wouldn't stay long and always had to leave at certain times. I think it was so he could send those sick photos around the world."
The elderly couple visit Ellmers in Wanganui Prison every few months searching for answers ... reasons why, an explanation, the truth, but leave with just more questions about their son's dark past.
"He's still flesh and blood but I wonder if we'll ever get a straight answer from him," Mrs Ellmers said. "We hope he's getting help but we can't believe what he says. It will take years to get that trust back."
"I would like to ask him some questions," Mr Ellmers said. "What's your thoughts on what you have done to us?', 'Why?', 'Why did you do it?'."
Their next visit will be in May.
Abuse has been spat towards Mrs Ellmers from those who recognise her name but said she has learnt to "harden up".
"It's not our fault," she said. "We just have to keep telling ourselves that. A couple of years will go by and it will become easier, and easier a couple of years after that."
She said it was hard with media reports of other paedophiles reminding them of her son, some of which would be linked to his crimes.
"You just try and get over it and then it's back in your face again," she said of the media scrutiny.
"He's ruined our family name.
"Some nights I sit outside, by the front door until 1am, 2am and just cry."