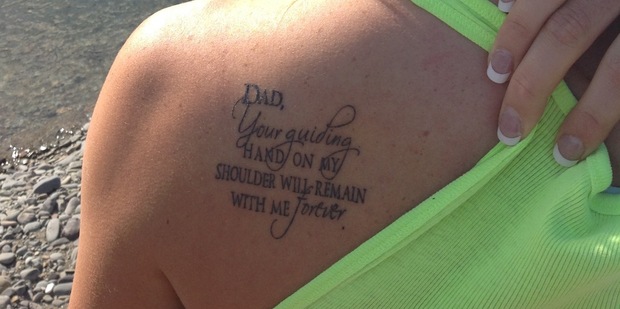 Whatever anyone thinks about tattoos, it is difficult to go past Gemma Hazeldine's story.
For the Haier Central Pulse netballer it isn't just a hackneyed exercise to establish a sense of identity.
No, it goes deeper - much deeper than any needle penetrating skin on a mission to turn the body into a human tapestry of blood mingled with ink.
"When you think about it, tattoos are the only things you can take to the grave with you and nothing else," says the 21-year-old from Wellington before the Robyn Broughton-coached Pulse host last-placed Mainland Tactix in Napier tomorrow.
The Katrina Grant-captained franchise team from the capital will play the Cantabrians from 7.20pm at the Pettigrew-Green Arena, in Taradale.
Hazeldine, of Christchurch, who has yet to come off the bench as a goal attack/midcourter following three games, is big on everything pertaining to her family.
"My family's a big part of me. I think about them all the time," she says.
Her father, Stan, succumbed to cancer in September, prompting the Transtasman Championship netballer to chronicle some choice tattoos to eloquently capture passages of the life of the man who left an indelible impression on her.
Conceptualising some of the images on the walking-talking canvas remains her domain but suffice it to say Hazeldine is happy to shed some light on "a couple" of them.
"Dad chose them for me," says the woman who works in the fresh produce department of a bulk food and grocery store, Moore Wilson's in Wellington.
The pair designed one on her right foot. They are two tulips - the pink represents him and the blue one her.
"They are very meaningful." She won't elaborate.
She commissioned a prominent one on her left shoulder blade since his death.
It reads: "Dad, Your Guiding Hand On My Shoulder Will Remain With Me Forever."
Her father's signature, which she got him to scribble on a piece of paper from his hospital bed without disclosing what her intentions were, now lives on the webbing between the thumb and forefinger.
"It's on the left side so it goes straight up to the heart," she explains.
A New Zealand age-group representative who won gold at the World Youth Championship in Scotland last August, Hazeldine performed on court in Glasgow on the platform of her father's pledge that he would continue to play the game of life until she returned home. The father didn't relent and the daughter isn't about to forget that passage of life as long as she's breathing.
Stan had signed on the dotted line to seal her contractual obligations with her franchise a day before he died.
It came at a time when Hazeldine belonged to the wider training squad of the Tactix's stable as an under-23 player last year.
Like many young people, she had to come to terms with gazing towards the horizon in pursuit of a career path, mindful she would have to detach herself from the comfort zone of everything binding a family.
Needless to say, her father's signature absolved her of harbouring such guilt and became the catalyst for her sporting pursuits.
"I'm up here for him," she says, having aspirations to reach the pinnacle of her sport but reluctant to define it.
"We'll just have to wait and see."
Consequently Hazeldine treasures her father's input, reliving his vision every time someone rifles the ball across the court to her.
The intricacies of that visual concept are as private as some of her ink etchings.
"It's quite cool. When I have the ball I see his face. I see him in my hands," she says, putting it down to an intangible private experience.
His father's assessment of her court time was genuine, refreshingly constructive and earned.
"Every game I played he was there and he gave me a debrief," she says, emphasising it was brutally honest and not a feel-good ritual.
With myriad technology these days, he hooked up to follow her trials and tribulations on the netball court even from his hospital bed.
The Hazeldines have always had a policy of glasnost (openness) when it came to entering the realm of tattoos.
She and her mother, Polly, of Christchurch, found common ground in sporting tattoos.
"Me and mum got one together. She said to someone ... ," Hazeldine starts to say but does a U-turn.
It doesn't matter about the details but, in a nutshell, it symbolises the "five koru" pertaining to their family.
That is, mum, dad and the three children, including her two older brothers, Kyle, 36, and Jared, 32.
In Maoridom koru, a foetal fern on the cusp of unfurling, denotes new life, growth, strength and peace.
Its circular shape helps to convey the idea of everlasting movement while the inner coil suggests a return to the point of origin.
Polly got a silver fern on her foot after promising she would if she represented her country, which the daughter did two years ago.
"My mum coached me for yonks, right from my [primary school days]."
Enter Hazeldine's partner, Matt Etheredge, who was pivotal on where her tattoos should be strategically placed in relation to the heart as the fulcrum for her fond memories.
"He is pretty cool. He's awesome," she says of Etheredge who she started going out with more than three years ago.
In fact, he sports a tattoo of a New Zealand map which runs down from the top of the neck to the sleeve of his arm.
"There's a fern going through it. You can't see it unless you're looking at it really hard. The guy who did it did very well."
Hazeldine isn't prepared to say she's done and dusted with tattoos.
"I have nothing really to do at this stage so why do it?"
Frankly her body canvas works are "all special so why wreck it with others".
"They are very special when they mean something. Some of them are over the top," Hazeldine says.
For a specialist goal attack, she readily accepts it's not easy to adapt to a new position, something Broughton wants her to embrace as a wing attack.
Hazeldine, though, isn't frustrated about warming the benches to date in the big league.
"My time will come and I'll play the best I can."
Tattoos have almost become a fashion accessory in netballing circles.
In fact Grant reckons she's seen them on so many players, including teammate Paula Griffin, who is of Samoan heritage.
"I know Paula has them. She might have been one of the first netballers to have tattoos, actually."
A great player, Griffin, like others, has culturally and individually inspired motifs but something only they can conceptualise.
So does the Pulse captain Katrina Grant have one?
"I might do ... I have a fern on my right foot," the 1.87m defender reveals, a consequence of becoming a Silver Fern.
"It's on the inside of my foot so you can't really see it unless I'm wearing jandals."
Talking shop, Grant says while teams do tick boxes on which opposition they should take maximum points off, the Pulse are mindful of the propensity of sides to grow from strength to strength in the ANZ Championship.
"The Tactix were grounded in their first game but they were good against the [NSW] Swifts and nearly matched them," the captain says.
Like many teams, the win-less Tactix tend to bring a different mind-set and style each week although she feels beating the Southerners won't make them champions this season.
That is not to say the Pulse are lacking confidence in a quality squad that has a mixture of youth and experience this season.
"We're a good team for the young to see and learn from," Grant says.
She says the Pulse aren't about just hard yakka day in, day out but also they have fun.
"You won't be seeing us 24-7 training and playing."
She singles out Te Huinga Reo Selby-Ricket as someone who makes her teammates laugh a lot.
Broughton, she says, is a fine coach who develops a rapport with players where they feed off each other in a nice culture.
"She knows how to get them [players] to work the way she wants them to."