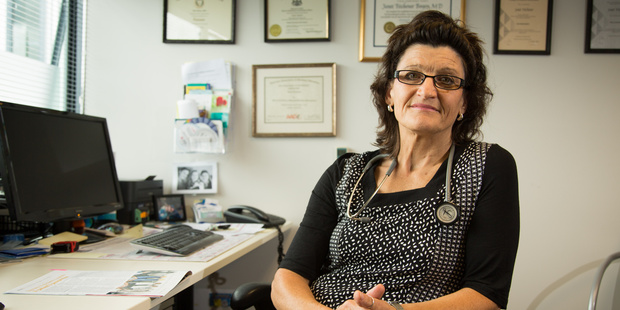 Hawke's Bay people suffering from diabetes aim to benefit from a new education pilot programme.
Developed by the supporters of the DHB's now-discarded GPSI; Diabetes Service, Lowe Corporation and Totara Health announced yesterday they were working together to deliver a positive outcome for people with diabetes through clinical and public education.
Lowe Corporation's Andy Lowe said the group was determined Hawke's Bay would not lose one of its greatest assets in winning the war against diabetes.
"We are committed to helping Hawke's Bay become a stronger and a more educated region in preventing and fighting diabetes.
"We have to listen to patients and doctors. We support and agree with their call to expand and grow a model that uses a patient centred approach within a primary care setting, learning from Dr [Janet] Titchener.
"We all acknowledge there is only one Janet Titchener, she can not do it alone. So we are going to invest in offering clinical training for doctors and nurses where they can learn from her skills and knowledge, and in doing so reach a lot more patients," Mr Lowe said.
Dr Titchener's contract with the DHB, to treat patients and educate clinicians at a cost of $150,000 for one year, was not renewed after a review said it was not good value for money and was supplementary, rather than an alternative, to existing services.
The new partnership between Lowe Corporation and Totara Health will be a one-year pilot programme involving general practices. The aim will be to reach more than 2000 patients who have diabetes, with Dr Titchener providing on-the-job patient training with general practitioners and nurses as well as a series of community education evenings.
The education model will be similar to a successful education programme running at Totara Health where Dr Titchener is sharing her knowledge with its 15 doctors and 17 nurses as they work with patients with diabetes.
Put Patients First would be holding a meeting for patients and supporters on the education pilot and the DHB's position for diabetes. A public meeting with patients is being organised and details will be advised once a date has been confirmed.
Hawke's Bay's Chief Medical Officer for Primary Care Mark Peterson said the DHB and Health Hawke's Bay (PHO) only learned of the development through a media release sent to Hawke's Bay Today.
"There has been no discussion or engagement with us. We don't know any detail," Dr Peterson said.
The commitment for the board and the PHO remained on developing a health-sector wide approach to diabetes care.
"This work is well under way and expressions of interest to be part of this programme had been sought from general practice and the wider health sector. Dr Titchener had not registered her interest in taking part."
Dr Peterson said any additional support for the further development of Primary Care Education in Hawke's Bay was welcome.