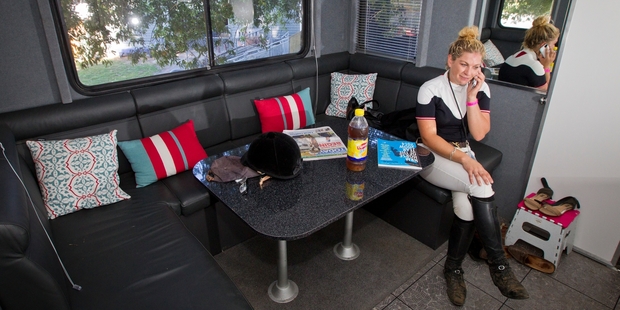 The Shore family arrived at the Hawke's Bay Showgrounds in style last week, at the helm of a 12.5m horse truck cum mobile holiday house.
The 300hp Isuzu truck, which sleeps seven people, is equipped with all the comforts of home.
There are three double beds, a kitchen with gas and electrics, and a bathroom with shower. The hot water is provided by gas heating.
The truck has two satellite dishes that allow for Sky TV, which the Shores can enjoy via a surround sound speaker system. The living area is a pop-out expansion unit furnished with leather couches.
There is also a beer fridge, outdoor entertainment area and a scooter locker.
The loading bay holds up to five horses. "The horses have a smooth ride, because of the trucks' suspension," said 30-year-old Zoe Shore, who made the "cruisy" trip up from Ashburton to compete in this year's event.
Shore came with her parents, and four horses in tow.
"It really is a home away from home. Instead of going to a holiday house, we go to horse shows."
The truck is 4.2m high and 2.5m wide.
The Shores had the truck custom-built to their own specifications two years ago. A truck of such calibre retails for $400,000- $500,000.
Chris and Sandy Shore were once part-owners of Dunstan Delphi - the horse that Kiwi golden girl Katie McVean rode in the world champs in 2010 in Leipzig, Germany.
Delphi was sold to Saudi buyers in 2011 for what is believed to be the highest price ever paid for a New Zealand horse.
Zoe Shore took out 2nd place at the Pro Am rider yesterday. She'll compete in the meter 35 on Saturday, and in the Speed Championship on Sunday.