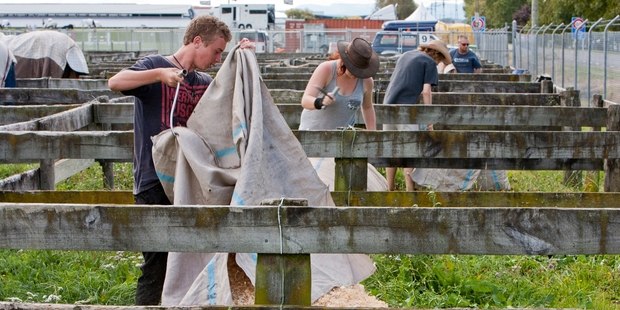 A day after helping pick up and put back arena-side fences blown over by wind on Saturday, Horse of the Year 2014 director Kevin Hansen quickly brushes off forecasts for rain heading Hawke's Bay's way on Friday.
The big event is set to officially kick off tomorrow at the Hawke's Bay Showgrounds with dressage, showjumping, mounted games and show classes - under warm and sunny skies, and that is how MetService sees things staying until Friday when a southeasterly system is predicted to bring rain until Sunday.
"It would not stop a thing," Mr Hansen said, adding any rain would likely be "skiffy" showers that would quickly move away.
"It's still six days out, and I don't really think this rain will come to anything," he said.
If rain were to arrive there would be no cancellations or dramatic changes.
"Rain, hail ... or snow ... it will happen."
Mr Hansen said competitors were adept at riding in whatever conditions confronted them and the now globally acclaimed Horse of the Year was a much-anticipated event for them.
"We have had some huge rain at the event before but we carried on."
While the Cyclone Lusi-inspired cancellation of the Holy Grail show event at the Church Road Winery grounds was disappointing it had no bearing on the Horse of the Year. "It was a pre-show event - it is different."
With nothing at stake, competitors would not have wanted to put their mounts or themselves at risk if the grounds were slippery. "The Horse of the Year is the big-picture thing and it goes on regardless."
Mr Hansen said the tail end of the cyclone, which created gusting winds and light rain on Saturday evening, caused "a few hassles". Apart from arena fences being blown over there were also issues with temporary power-supply systems to early-arrival parked-up trucks. Those had been sorted by yesterday as fine weather returned.
Mr Hansen said this year was the first time he had encountered so many early arrivals.
"We've had people arriving since last week." He said the public could expect to see an extraordinary equestrian event, and he had seen for himself the "remarkable" skills of current word champion, Belgian Philippe Le Jeune.
"I've just got back in from watching him out there and he looked brilliant - so classy. He's really raring to go and he'll be tough to beat."
SHOW SCHEDULE
TODAY
Show classes (show rings) from 8.30am.
Welsh (polo grounds) from 8.30am.
TOMORROW
Dressage (Land Rover dressage oval) time TBC.
Mounted games (mounted games arena) from 8.30am.
Showjumping (NRM arena, ring 2 and 3) from 9am.
Show classes (show rings) from 8.30am.
Show hunter (show hunter rings) from 8.30am.