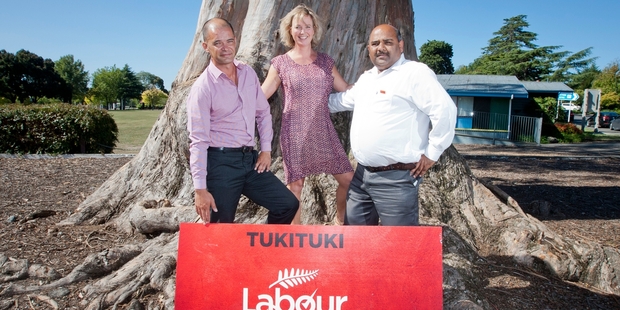 The Labour Party's challenger to Tukituki MP Craig Foss is expected to be known late today afternoon, after a three-candidate selection meeting in Havelock North.
Seeking the nomination are horticulture labour provider Sanjeev Bhatia, of Meeanee, Hastings legal and commerce graduate and rights campaigner Nevada Halbert, and Waipukurau-raised businesswoman and former journalist Anna Lorck, of Havelock North.
The meeting is closed to members of the general public but members of trade unions affiliated to the Labour Party are able to attend. If those union members also live in the Tukituki electorate they may take part in floor votes which will contribute to the selection process when a committee also comprising party National Office and electorate committee delegates convenes after the candidates complete their addresses.
One floor vote determines a candidate to represent the wider membership on the selection committee, and another, for which participants must have been members for more than a year, decides a vote for the candidate preferred by the members.
Another floor vote, among those who have been members less than a year is to give an indication of support, which the voting delegates may consider.
First elected in 2005, Mr Foss is in his third term with a majority for the National Party of 9660 votes at the last election in 2011.
The Havelock North meeting will complete Labour and National Party selection in the two city-based Hawke's Bay electorates, stretching from Wairoa to south of Hastings.
In Napier, the National Party last week chose Chamber of Commerce chief executive Wayne Walford, while the Labour Party will be represented by former List MP Stuart Nash.
In Wairarapa, which includes Central Hawke's Bay, nominations are currently being called for a National Party candidate after an announcement by MP John Hayes that he will not seek re-election. At least two contenders are expected with nominations closing on March 24.
The Labour Party has already selected Keiran McAnulty, who lives in Wairarapa but works in Wellington.
Meanwhile, the Maori Party begin its campaign for a challenge of new MP Meka Whaitiri in Ikaroa Rawhiti, with a gathering for prospective candidates this weekend at Te Poho o Rangiianui Marae in Greenmeadows, Napier, with retiring former parliamentary co-leader Tariana Turia in attendance.
Its nominations open on Monday and close on April 7 with the successful candidate being announced on April 13.
The party's electorate co-chair, Bayden Barber, said: "We need people who are passionate about our kaupapa, eager to represent our people and dedicated to advancing Maori in the changing political landscape."