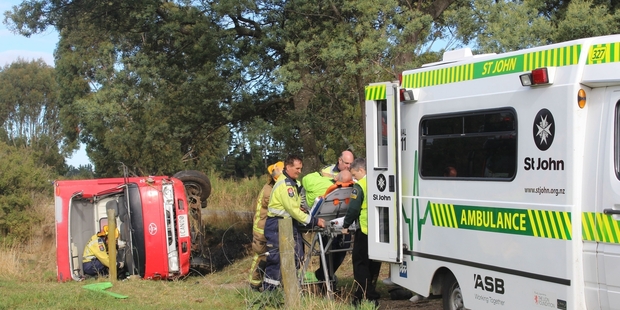 After a busy weekend, Dannevirke's volunteer firefighters were hoping for a quiet start to their week on Monday.
But it wasn't to be, with emergency services called to an accident south of town at 9.30am.
"A truck had flipped on to its side after coming off State Highway 2, going through a fence and ending up in a paddock," Dannevirke chief fire officer Pete Sinclair said. "Our crew had to cut the roof off the truck to get the guy, who was conscious, out of the cab."
The 64-year-old Palmerston North truck driver was taken to hospital by ambulance.
"We believe the driver could have suffered a medical event at the time of the accident," Sergeant Paul Adrian of the Dannevirke Police said.
The four-tonne truck was travelling north towards Dannevirke on State Highway 2 when the crash occurred.
Mr Adrian said the driver didn't suffer life-threatening injuries after it appeared the truck had swerved, crossed the centre line and ended up in the paddock.
The Dannevirke brigade's busy weekend began at 11.30pm last Friday when firefighters were called to a truck fire north of Dannevirke, but Mr Sinclair said there wasn't too much damage.
On Saturday morning the brigade was called to a minor fire in Dannevirke and to a medical callout in Hartgill Cres in the early evening where their help wasn't required.
"We were also called to a reported structure fire on Saturday night," Mr Sinclair said.
"We could see the glow in the sky, but couldn't locate the fire. It turned out to be a farmer burning scrub."
Paddy Driver, the Tararua District Council's principal rural fire officer, said it was a controlled burn by the farmer.
The Norsewood Volunteer Fire Brigade covered Dannevirke while the local brigade was busy on Saturday night and they were called to a rubbish fire in the public carpark behind KB Ford.
On Sunday afternoon the Dannevirke volunteers set up the landing pad for the Palmerston North Rescue Helicopter outside the community hospital in Barraud St for the transfer of a Kiwi Lumber employee to Wellington Hospital, after an accident with a angle-grinder.
Meanwhile, despite high day time temperatures, Mr Driver said there is still an open fire season in the district.
"I'm not expecting any problems, so long as people take care when lighting fires," he said. "If farmers are planning controlled burns it would be worthwhile them informing the fire service communications centre.
"Understandably, people see a fire and report it and it would be helpful if the fire service knew the circumstances."