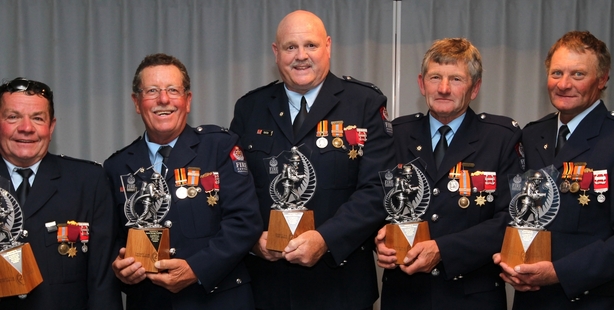 Five Haumoana Volunteer Fire Brigade members have received gold-star awards for 25 years' service to volunteer firefighting in one of the biggest celebrations of its type the brigade has held.
Saturday's ceremony, in front of about 170 family, friends, and fire service personnel in the Te Awanga Hall was just the second time in the 68 years of the brigade that five members had been recognised at one time.
Recipients were station officer Graham Arthur and senior firefighters Stuart Sinclair, Phillip Evans, Chris Dear and Kevin Cushing. All senior firefighters, they were presented with their gold stars at a ceremony at Te Awanga Hall in front of 170 family, friends and fire service colleagues and officials from around the country.
Those present included Hugh Baker and Ian Bambry, two of the original five who received their gold stars in 1971, and members of the brigade when it was formed in 1946.
Of the 23 serving members of the brigade, which serves Haumoana, Te Awanga and the Tukituki area, nine have had at least 25 years' service. Six more are life members.
One of the first volunteer brigades designated as co-responders, the brigade answers about 150 calls a year, about a third being medical, said senior station officer Bill Tims.
"It's a reflection on the loyalty and comradeship of our brigade that everyone made a point of being there to celebrate with the five," he said.
"We're a small team but we have a strong connection to the community we serve, and support for each other that makes us an effective team."
Further evidence of this commitment was the brigade's award in August last year for being the fire force that had achieved the highest level of training excellence in New Zealand; the Emergency Management Qualification (EMQUAL) Training Excellence Award 2012.