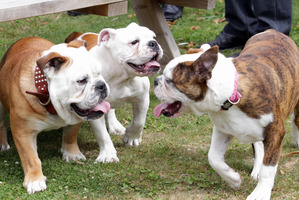 Clive restaurant manager Hayden van Hooff doesn't often get callers arriving to see him just before midnight but he was delighted to greet two people who arrived on his doorstep two nights ago with a familiar face in tow.
It was Mr van Hooff's purebred English bulldog Caesar who went missing from the back of Fajita's Mexican restaurant while he was inside working on February 22.
"Oh man - I was so chuffed," he said as Shaun and Tasha Wairau arrived with Caesar after carrying out searches and following tip-offs they came across.
They are dog lovers in their own right, and as Mr Wairau pointed out as he gave Caesar a pat yesterday after they stopped by with their pups Axle and Lexus - "he's family".
Mr van Hooff bought Caesar from a litter which Mr Wairau's brother's bulldog had produced, and the couple recognised the six-month-old pup on a Facebook page which told how he was missing.
"So when we heard that it became personal," Mr Wairau said. He and his wife pressed into action - and started making their own enquiries figuring the pup may have been stolen and sold on to someone who may have been unaware he was a wanted dog.
Which is effectively what had transpired.
"They started checking out tip-offs and talking to people," Mr van Hooff said.
They weren't the only ones, he added, saying publicity through a story about his loss in Hawke's Bay Today as well as "Missing" posters he circulated throughout the region resulted in a "huge" response.
He started getting phone calls from people who had been out walking and riding saying they may have spotted Caesar as well as calls, texts and messages from people saying they would keep an eye out for the dog.
Mr and Mrs Wairau eventually tracked him to a property and said the man who lived there had bought him, but had no idea he was stolen.
"We showed him the poster and he was shattered," Mr Wairau said.
"I think there was a tear in his eye but he was happy to hand him over to his proper owner - and we'll give him a pup from our next litter."
The man who bought Caesar said he had no idea who the man who sold him to him was.
Mrs Wairau said what disturbed them was hearing talk that the "Mob" probably stole him.
"No way," she said, explaining she and Mr Wairau were members of the Mongrel Mob. "No, we went out and found him and got him back to Hayden."
They came across Caesar at about 9.30pm on Wednesday night and posted his picture on-line to Mr van Hooff - who shouted with joy.
"They arrived here around midnight with him and said they didn't want any reward - they had just wanted to help find him for me.
"They were absolutely great and I can't thank them enough."
Mr van Hooff said he would no longer be keeping Caesar "out the back" while he was at work.
Caesar had been in his run out the back when he went missing - with neighbours later saying they had seen someone "lurking" near the restaurant around 9pm.
Mr van Hooff said that he had only recently arrived to live in Hawke's Bay and had not expected such a huge reaction from people intent on getting Caesar back to him.
"It was just great."