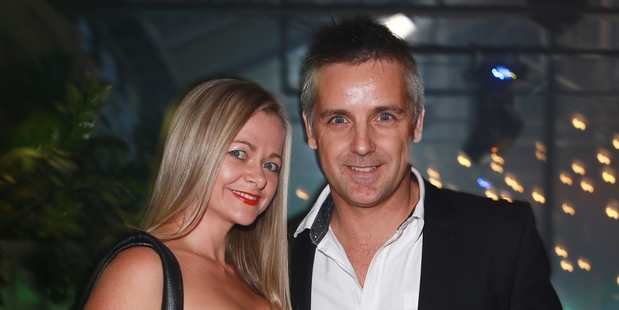 Shane Cortese, the 45-year-old acting/singing/dancing star who has appeared in television shows such as Nothing Trivial, Outrageous Fortune and The Almighty Johnsons has long had one fun and fashionable thing on his bucket list.
To get down to Napier on that one colourful and whimsical weekend of the year which revolved around celebrating the delights of Art Deco and the era it emerged from.
Now he is set to cross it off the list after being approached by the Art Deco Trust to be its official ambassador for the Tremains Art Deco Weekend 2014.
And he was delighted to accept.
"The Art Deco Weekend has been on my bucket list for some time and I'm really looking forward to being part of it," he said.
Cortese will be joined by his wife Nerida who had been involved with the show Dancing with the Stars and will attend a string of weekend events - including one which will see his dancing skills put to good use.
He will oversee the Charleston Challenge at the Sound Shell on Marine Parade tomorrow at 3pm.
It will be staged during the intermission of the Bathing Belles Fashion Competition and will be the ultimate 1930s dance-off.
Starting with a lesson, it will culminate in a dance-off - with the dancer who keeps up with the increased music pace judged the winner.
In 2005, Cortese starred in the New Zealand version of Dancing With The Stars, and partnered with his wife he finished runner-up.
Art Deco Trust general manager Sally Jackson said she and the what-ho crew were delighted to have Cortese on board as their ambassador.
"Not only is he an extremely talented national star, he also has a genuine affection and understanding of the Art Deco era," she said.
"We hope having Shane on board will help raise the profile of Art Deco Weekend and make it a "must-do" event for New Zealanders and Australians."
Getting someone like Cortese, who has a wide media profile, aboard also got the thumbs-up from Hawke's Bay Regional Tourism general manager Annie Dundas.
"Hawke's Bay Tourism and the Art Deco Trust have been working together to promote Art Deco Weekend both internationally and within New Zealand and having Shane join the event was one of the elements that will help us achieve that."
Ticket sales for several events had been strong over the past fortnight and many had sold out by the start of the week.
This year's big weekend will see about 200 events taking place - many of them open and free to enjoy - with the trust estimating about 35,000 people attending.
As well as attracting Cortese, the organisers are also smiling as it appears the event will be blessed with mainly fine weather as well. The long-range forecast late last week was not promising but now it appears the sunshine will reign - instead of rain.
Tomorrow is forecast to be 30C and mainly fine, although there is some chance there could be some "isolated" light showers late in the day. Sunday is set to be 26C and mainly fine, and only a slight chance of some late rain.
The full Art Deco Weekend programme is available online at artdeconapier.com.