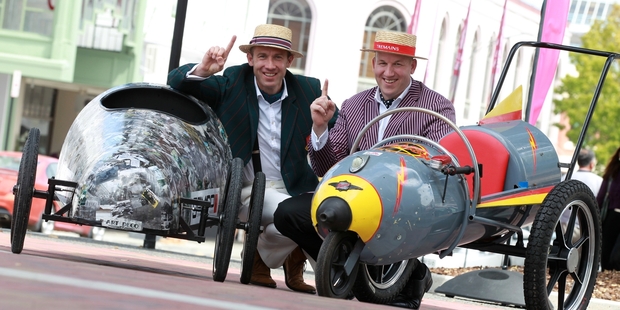 Among the expected two dozen home-made race carts set to line up on the Tennyson St grid for Sunday's Art Deco Soap Box Derby will be two which the team managers say will see the usual business camaraderie go out the window.
Or down the road to be more specific.
Gemco is a major associated sponsor of the Tremains Art Deco Weekend and, of course, Tremains is the principal sponsor - but that devotion to helping create an internationally-recognised and embraced event will count for nothing when the races get under way at 10.30am.
Both firms have entered carts and, while it is the fourth time the Gemco race team have been involved, this year's event will be the Tremains GP team's debut.
"But that counts for nothing," Tremains race team manager (and Colliers International director) Cam Ward said yesterday.
"This is a first time for us and we've emptied the company coffers - we've spared no expense," he said, explaining that the company had bought a well-seasoned race car which he described as a "family heirloom".
He said test sessions using the children of staff members were set to be carried out during practice sessions on Friday afternoon.
"We've got four or five drivers lined up and we'll be picking the fastest, of course."
Mr Ward said he would be the ignition source ... he will push their car into racing action.
When it came time to getting a photograph of the cart-duelling teams Mr Ward said he was happy to go in a picture.
"As long as I'm in front," he said.
"I suppose you should get in that position once in your life," Gemco race team strategist (and commercial manager) Ash Zachan said.
"We know the track pretty well - it starts on Gemco corner of course and for the past three years we've made the finals."
To which Mr Ward chipped in with "yeah but that's as far as you've got ... you've never actually won it".
"Well we're not worried about winning the whole thing ... all we have to do is beat you," Mr Zachan said, adding that the experienced team of driver Jackson Diack, 8, and his father, Darren, who will be the push-starter, had made some crucial and speed-enhancing modifications.
Mr Ward and Mr Zachan have already prepared their victory speeches, and a wager had been laid to the tune of three bottles of wine - with each telling the other what they prefer when it comes to the liquid booty.
Art Deco general manager Sally Jackson says the Soap Box Derby has been a firm crowd favourite for more than a dozen years.
"We won't be really sure how many entries we will get until on the day but it will be 20 or more."
The races, two carts at a time, set off from the top of Tennyson St and cross the finish line about 100m away.