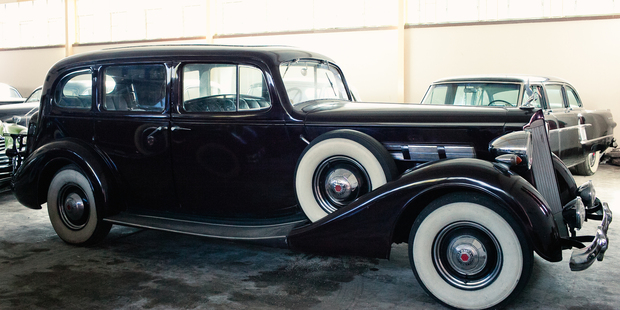 For the past four years Auckland vintage car and Art Deco enthusiasts Arnold van Zon and his wife Marieke have made the journey south to be part of what they call a "very special" weekend - with this year's Tremain Art Deco event set to be more special than most.
Last year the spotlight fell on the Bentley brigade and this year it is the turn of the American Packard - dashingly styled and renowned for their quality and reliability.
So they will lead the grand Automobilia Vintage Car Parade up Emerson St on Saturday afternoon at 12.30 - with Mr Van Zon's nine-year labour of restoration love, a 1929 Packard 640, set to lead the procession.
"We are so looking forward to it because it is a unique and wonderful time - there is nothing else like it in the world," he said, adding he was proud to have been chosen to lead the 13 Packards at the head of the parade that will feature 252 vintage cars in total.
For the first two weekends he and his wife attended they came in another of his restoration efforts, a 1926 Essex.
"Since then it has been the Packard."
He has been intrigued and smitten by grand old cars since he was a teenager in Holland - the couple moved to New Zealand 43 years ago.
His first restoration job was a 1954 Citroen L15, followed by the Essex than another Citroen - a 1972 Dyane.
It was in 2001 he was offered the Packard, which he described as "dilapidated", by another member of the Vintage Car Club which he has belonged to since arriving in the country.
"The car was in a sad state because it had been modified some time during the 1950s to be used as a truck on a farm - and to do so the rear top of the body had been cut off to take a wooden tray," he said.
The engine had seized up, the shocks were rusted solid, the brakes were locked so the wheels would not turn and parts like tail lights, door fittings and instruments had been cannibalised. "Only the chassis was still in good condition."
A specialist machinery designer and builder, Mr Van Zon (now retired) set to work, dismantling, sandblasting, rebuilding butchered panels and woodwork and completely overhauling the engine using parts brought in from the US.
All the seats and the soft top mechanism had to be made from scratch using old photographs.
It took a long time, but he said there was more satisfaction in actually restoring it than there was in eventually driving it.
"They are not easy to drive as they weigh two tonnes and only have drum brakes - and that's a lot to stop."
The non-synchro "crash" three-speed gearbox also posed a driving challenge to those unfamiliar with them.
The journey down to Napier will be a two-day one as they intend stopping over to see friends in Taupo.
"It's always a good trip and we always look forward to the great atmosphere in Napier - it really is a beautiful place and the weekend makes it so much more special."
He will be bringing another restored "vehicle" with him - a vintage BSA bicycle which he has painted in the same colours as his Packard.
"I'm hoping they will let Marieke ride it in the parade behind me."
Mr Van Zon said the Packard, one of about 11,000 that were built and one of only three in New Zealand, would be his last car restoration project. "To the great relief of my wife."
However ... he added there was a 1942 Harley-Davidson WLA motorcycle "waiting" under the house.