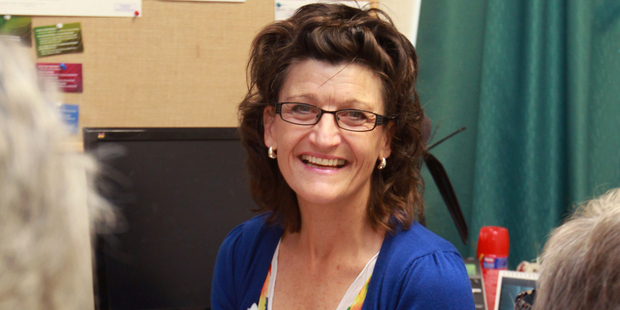 Everyone says Dr Janet Titchener's diabetes service is highly effective, but it has lost its Hawke's Bay District Health Board (DHB) funding because it is too expensive.
Passionate patients have launched a Put Patients First campaign with the backing of businessman and philanthropist Andy Lowe, who was moved by employees' tales of how the service had changed their lives.
The DHB says the intensive intervention programme, to support patients to manage their own condition, is too expensive and not part of a clear treatment pathway.
For eight years Dr Titchener was contracted as a General Practitioner with Special Interest (GPSI) to mentor GPs. In the past year she was funded to treat 100 patients throughout Hawke's Bay.
As good as the GPSI Diabetes Service is, the DHB maintains its $150,000 subsidy would be better spent supporting the GPs who treat most of the region's 7990 diabetics.
Critics of the decision say in the long term the service was saving money, because of fewer diabetes-related conditions developing and its methods should become the region's model.
Legal firm Chen Palmer has written to the DHB, challenging the cancellation and asking it to renew the contract.
Supporting the cancellation is Dr Mark Peterson, the DHB's chief medical officer for primary care.
He said the service's work had been excellent and "to a certain extent" was being emulated by the DHB.
"Part of her contract was to provide some diabetes-care mentoring for GPs and practices and we are doing that now with the diabetes specialist nurses and to a lesser extent with the diabetes specialists from the DHB service."
A specialist nurse visited his Taradale practice, seeing patients and helping doctors and nurses with difficult cases. Results had been very good.
Whether Dr Titchener's success was because of what she did or how she did it, was "difficult to establish".
"One of the issues is her patient base is probably a select group. They are people that are referred to her by GPs because their control is not as good as it might be."
Being referred to a different service could lift a patient's motivation, "which probably happens if you refer them to specialist care as well".
Referrals to the service were not well connected to other diabetes services and referred patients were more likely to be suffering from diabetes alone, whereas diabetes specialists were more likely to be referred patients with multiple medical issues, he said.
"Her work gets good results, we are not disputing that. She has upskilled doctors and nurses and is very successful with patients, but there would be a wider benefit by redirecting her funding.
"It is trying to get the available resource to get the most benefit for the most number of people, rather than a really high level of benefit for a small number of people.
"It is not a criticism of her at all - that money will result in more good outcomes.
"We are not renewing the contract for performance issues, we are just saying this is an awful lot of money invested in a small number of diabetic patients.
"We will get good results with that $150,000. Possibly not quite as good, but the overall benefit would be greater."
Hawke's Bay businessman Graeme Norton said he has Dr Titchener to thank for teaching him how to take control of his disease.
He was diagnosed a diabetic in 2006 but his regime of care "didn't really work no matter how hard I tried".
"After a couple of years of struggling along I got referred to Janet's service and she diagnosed me differently.
"I ended up on a regime of insulin and I became a passionate self-managed patient. I was transferred back to my GP in a much better space within a relatively short space of time."
"My journey with diabetes has gone on since and I have had some interesting journeys but I get patient-centred care from my current GP."
Interest in his disease has led him to join the DHB Community and Public Health Advisory Committee and chair the Hawke's Bay Diabetes Leadership Team - a steering/advisory group of consumers, clinicians and other stakeholders working to improve outcomes for those with or at risk of diabetes.
He said when he was referred to Dr Titchener there was "patchy" GP support for the disease.
"There was quite a variation of knowledge among GPs, including my own, but if you fast forward six years that picture is quite different.
"The Diabetes Service has played a role in that education, but so have other things. The level of understanding in the health sector around diabetes management, including those who are insulin dependent, is much different."
"Now there are far more practices that are self-sustaining and some credit should go to Janet for that.
"My GP has taken the trouble to lift his understanding of diabetes dramatically and there are lots of others like him.
"Janet uses her approach very effectively but she hasn't got the only answers for patient-centred care or diabetes management." He said there were few doctors as committed as her.
"I don't think you would find anyone who is prepared to be rung at 10pm by patients at GP or nurse level. That's extraordinary but it is not sustainable.
"I experienced it myself - you couldn't clone that."
Dr Ron Janes of Wairoa is a Distinguished Fellow of the College of GPs and a former colleague of Dr Titchener on two diabetes research projects in Wairoa.
One study looked at the meaning of illness for people with diabetes and barriers to treatment. The other looked at rolling out the GPSI model and trained Wairoa people.
Like the controversial DHB decision to discontinue Dr Titchener's service, the Wairoa study was cancelled because it was too expensive.
"There were good outcomes. We had improvements in diabetes control from the people that we worked with, but once the funding was used up the model stopped because it was quite time-intensive."
The decision to cancel was not good accounting, he said.
"It comes down to how you cost it out. In the short term it is quite an expensive model, but in the long term I think it will pay dividends in terms of keeping people off dialysis and not needing their legs amputated. Her model was very different from the status quo.
"The challenge that we have got in general practice is we are used to a 15 minute appointment and it is very difficult to do the diabetes education - helping people to understand this disease and all their treatment options in 15 minutes. Especially when they come with their WINZ form and their sore throat and their sore knee.
"Her model is quite different because patients go to just discuss their diabetes. Over weekly visits - one hour appointments - they get a tremendous grounding and understanding of their disease, to the point where they can start to self manage.
"That's the goal - getting people to the point where they can look after themselves and not having to see the nurse or doctor to get their pills or insulin adjusted."
He said DHBs focused more on government targets than patient-centred care.
"Why are they cancelling her clinic at this point in time? Why aren't they studying it to find what she is doing that allows her to succeed where others don't?"
He said her particular success with Maori was because of patient-centred care.
"She gets right alongside the patient and finds out what it is that motivates them - she gets them onside right from the very beginning. She gives them new information to make them understand diabetes.
"She doesn't follow the model of hospitals, where experts are supposed to tell people what to do. She gets the person to understand the diabetes, understand the treatment options and lets them choose what they want to do.
Some people "turn off" when they are just given instructions.
"They don't want to be, what they perceive to be, talked down to or told what to do. That's the old model.
"Her model the patients love, because they are treated with respect and have the autonomy to make their own decisions. It is the model we all have to move towards and it is the model that you would want to have if you were a patient."
Dr Titchener said the DHB had made false assumptions about her service and her patients' profiles. Half her patients are non type-2 patients, the milder form of the disease and many have multiple medical issues. One is right on the cusp of renal dialysis.
She agrees that specialist diabetes nurses were the road the DHB should go down and had presented a strategy for rolling it out.
"I believe we could do it very cost effectively," he said. Two elements were needed to manage chronic disease, she said. The skills to manage the disease and the skills for patient-centred care.
Dr Janes said patient-centred care was a term that was often loosely used, but it was "a complex medical treatment".
A well-thumbed textbook on the patient-centred care sits on Dr Titchener's desk in Havelock North.
"It's my bible," she said.
"It is not a concept that comes naturally, it is a formal set of concepts that people have to be trained to do so it is in each interaction."
While specialist nurses are a good idea she is concerned about patient safety.
"Who is upskilling the GPs? If you upskill a practice nurse, who is providing care of the patient, there needs to be oversight.
"At the moment the GPs are feeling that what is being forgotten is that when that specialist nurse is not in the practice for the majority of the time, so who is providing oversight to this nurse? Presumably she has more understanding than the GP. It is a clinical question that needs to be asked."
She said preserving the bottom line and using resources wisely was vital and there were established formulas showing cost savings achieved through lowering blood sugar levels.
Health benefits improved exponentially the more blood sugar levels were lowered. One United States study showed that the downstream savings from the low levels the GPSI service was achieving meant it was saving the DHB money long term.
"They keep talking about the cost of the service but they should be talking about the value. That is the disappointment in the discussion around the service."