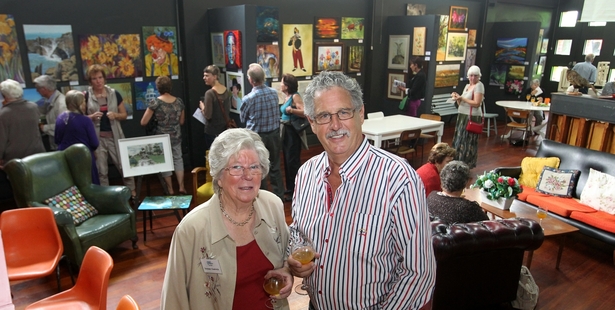 In 1964 a group of nine enthusiastic artists decided Napier needed its own art group.
Thanks to their efforts and those who came after, this year the Napier Arts Club celebrates its 50th anniversary. To mark the occasion, current members have put together a special exhibition at the Photographers Gallery Hawke's Bay.
The original group of nine artists, including the club's main instigator, Audrey McKelvie, had attended a 10-week art course in the Napier Art Gallery, aka the Founders' Room of the then Hawke's Bay Museum. Inspired by their time there, they decided to form a club which originally met at Napier Girls' High School, before purchasing in 1984 what became its permanent home at 122 Vigor Brown St.
The building, which had been through many incarnations including as a plumber's and electrician's premises, was refurbished to suit the club's needs over the following two years, with many donations of materials and labour.
Its original purpose has remained unchanged - support for people wanting to make art for their own pleasure - with a particular focus on traditional painting, with regular workshops and in-house exhibitions held. It currently has 90 members and the exhibition showcases the best of the work completed over the past year.
Vice-president Glennis Smiley had a brief association with the club as a teenager but it wasn't until she retired that she had both the time - and the courage - to walk in the door and give art another go, she said.
"I've loved it ever since."
Audrey's son Ross McKelvie opened the exhibition.
The exhibition also has meaning for the gallery's co-owner, Shayne Jeffares. His first job as a photographer was at the McKelvie family photography studio, founded by Audrey's father, AB Hurst, a well-known local photographer, particularly for his images taken during the aftermath of the 1931 Hawke's Bay earthquake.
"This show is a tribute to her artistic career, and as a hand colourist, teaching many women how to hand colour, and being one of the first female photographers in New Zealand."
Napier Arts Club 50th Anniversary exhibition, Photographers Gallery Hawke's Bay, Tennyson St, Napier, Tuesdays to Saturdays 10am-3pm until March 8.