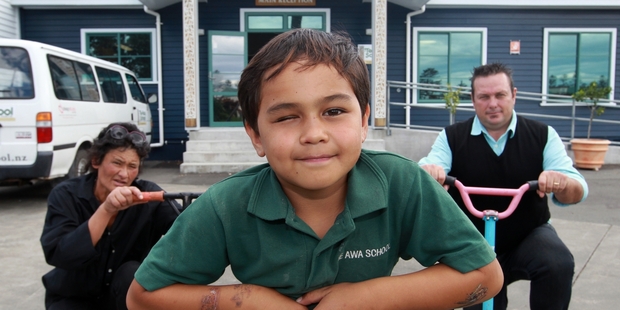 A Napier primary school is cracking down on scooter safety after one of their 6-year-old students lost an eye in an accident at home.
In June last year seven-year-old Masyn Ratima slipped and fell off his scooter at home in Maraenui, landing on exposed metal at the end of the handlebars and severely damaging his right eye.
Grandmother Alicia Te Au was alerted by Masyn's cousin that something was wrong.
"The scooter dropped, he dropped and when the scooter landed the handlebars were actually pointing upwards and he fell onto them.
"The handlebars had cut through the hand grips and it went into his eye."
Masyn was rushed to hospital and underwent surgery. However nothing could be done to save the damaged eye.
"They said it's actually really damaged but they didn't want to take it out, the surgeon wanted to leave it in so they just tided it up a bit."
He spent four days in hospital before beginning a routine of appointments with specialists, returning to school at Te Awa Primary about two months later.
"He's now completely blind in his right eye.
"He was only six years old at the time so it was pretty hard, but the support of the headmaster at the school was awesome, he came down to the hospital and visited him."
Ms Te Au, who bought the scooter as a Christmas present as a scooter for her grandson, returned it soon after the accident.
"They were really good about it and refunded me. It's not their fault."
She also laid a complaint with the Measurement and Product Safety Service at the Ministry of Business, Innovation and Employment.
Ms Te Au said the scooter she purchased did not come with plugs in the end of the handlebars and said this would have contributed to the amount of metal exposed and subsequently her grandson's injury.
A response from the Measurement and Product Safety Service offered sympathies for Masyn's injury but said the scooter was not unsafe.
Te Awa School principal Tim Van Zyl said he was encouraged to do something about scooter safety after realising how easily accidents like this can happen.
"A lot of that depends on the equipment the kids have so we went around and checked all the kids scooters. We started noticing some scooters had no bungs on the end so I phoned the Marewa bike shop and found out how much those bungs cost, they're about $6 each, and the store was really good they turned around and said if you send a kid from Te Awa we'll replace it for free."
Mr Van Zyl banned all scooters without plugs on the ends of the handlebars and advised parents in a newsletter.
He said one or two caregivers had taken up the offer at the bike shop.
"We also went around to the classrooms and took lessons on what it's like to lose an eye, just simple things like catching a ball Masyn will have to adjust to."
The school has put in specialist help for Masyn and said all the children had been supportive of his recovery.
"They don't bat an eyelid."
Ms Te Aau said Masyn was recovering well but has lost a bit of confidence since the accident.
"It was very scary for him. He's a very hypo kid and full of life, always doing backflips, he was showing the nurses at the hospital. Now he gets a bit sad sometimes but he's healthy."
She said he was now very conscious of safety when it comes to scooters and bikes.
"I've said to him you can help a lot of other kids by making sure they are aware and he understands that.
"He won't jump on a bike or a scooter that doesn't have plugs at the end of the handlebars.
"Some kids were here last week without plug-ins on their bikes and he grabbed the cellotape and taped around the end of the handlebars."
Ms Te Au said Masyn would likely be fitted with an artificial eye later this year.