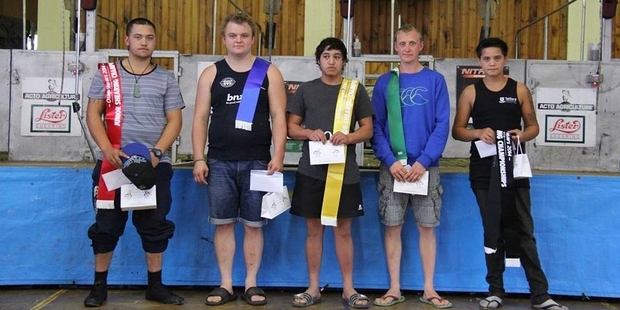 Things are starting to hum around the northern Hawke's Bay township of Raupunga after a string of successes by its young people on the shearing board.
The latest success is 18-year-old Carlton Aranui's Otago Shearing and Woolhandling Championships junior shearing final win in Balclutha last Friday, possibly the third-most prized junior title in the country, after the Golden Shears and the New Zealand Shearing Championships.
Now in his third season with Mataura contractor Maaka Rangiuaia, he's the third Hawke's Bay shearer or woolhandler with ties to Raupunga to win on the Shearing Sports New Zealand circuit this summer.
The others are Raupunga contractors' daughter Creedence Culshaw, who won junior woolhandling finals at the New Zealand Spring Shears in Waimate in October and last month's Rotorua show, and Napier shearer Willie Lambert, who has shorn five senior finals, including winning at the Wairoa show.
With Aranui having for two months before Christmas shorn out of Ararat in Victoria, and Culshaw having worked in Western Australia, based in Katanning, Aranui's mother, Ira Harrison, says the industry is opening doors to a whole new world of opportunity for young people of the area.
Her son is following in the footsteps of elder brother Floyd, who at 23 has already shorn in Australia, the UK and Canada, and in the words of several locals: "He's been all around the world."
"It's good for the young ones," said the shearers' mother, who comes from a shearing family background on the East Coast. "I think they realise now it's not just about working. You can travel the world shearing."
Generations have passed since young people could rely on a job with the former Ministry of Works, Railways or forestry, and, if not, on local farms, but shearing remains, despite dwindling sheep numbers and worldwide worries about the future of wool.
Some of the slack in Raupunga is being picked up by contractors such as Boy and Ngaire Culshaw's Pahauwera Shearing.
They've had gangs out as far as Te Reinga and Nuhaka in the north and Tutira in the south most weeks since starting the "winter run" last May, with four gangs at peak in the recent mainshear, providing jobs for about 34 people, almost all from local families.
Boy Culshaw goes back about 25 years or more, and says: "We were just little then. Just me and three others."
Notably, three of the five in the final won by Carlton Aranui were from Hawke's Bay, with Eli Raheke, of Porangahau, finishing third, and fifth place going to Hemi Lambert, younger brother of Willie Lambert - their father being a shearer, and their mother a new competition judge.
It was only three weeks ago that Aranui reached his first final, finishing fourth at the Northern Southland Community Shears near Lumsden.
That event was won by Oamaru shearer Joel Richards, currently SSNZ's top-ranked junior nationally.
It was a different story on Friday as Aranui, who is in the modern apprentice programme run by training providers Tectra, used quality to overcome a significant time deficit in being fourth to finish the five-shearer final over four sheep each but, at the final count, beat runner-up Richards by 4.3pts.
Raheke was first to finish in 6min 20.5sec, 15 seconds quicker than Richards, and almost a minute-and-a-half quicker than Aranui, who Tectra Southern South Island regional training manager Chas Tohiariki says is planning to return for competitions in Taumarunui, Apiti and Pahiatua, and the Golden Shears.
He is also mentored by top senior and Southland shearer Brett Roberts, a grandson of Mataura contractor Cliff Waihape, who also comes from Raupunga.
The junior results were followed by further Hawke's Bay success in the glamour 20-sheep Open final, won for a second time by Hastings shearer Rowland Smith, six seconds quicker and two points clear of runner-up and five-times winner John Kirkpatrick, of Napier.
It was the ninth time in 10 years the event had been won by a Hawke's Bay shearer, and the fifth time Bay shearers had been first and second.
Smith, scoring his fifth win in three weeks, also led New Zealand to a second Elders Primary Wool Shearing Series test win over Wales, and with teammate Tony Coster, of Rakaia, will be hoping to go 3-0 up in the third test during the Southern Shears at Gore tomorrow and Saturday.
Another young Hawke's Bay shearer, Keanu Sutton, of Dannevirke, has a special challenge at Gore as a member of a team of four modern apprentice shearers and woolhandlers representing the North Island in the first match of its type against four contemporaries from the South Island. The team, managed by woolhandling instructor Huia Whyte-Puna, of Aropaoanui, qualified by winning a match between two North Island regions at an annual apprentice workshop near Gisborne.
A second match between the two teams will be held at the New Zealand championships in Te Kuiti at the end of next month.