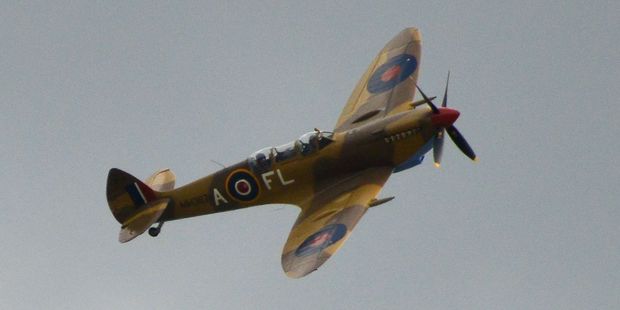 Hawke's Bay aviation enthusiasts and anyone who enjoys the sound of a roaring Spitfire V12 Merlin-engined fighter will now have two reasons to smile as a second one is set to take to the skies over Napier during the Tremain Art Deco Weekend air show.
The Napier Aero Club committee organising the event has confirmed that a two-seater Spitfire Mk9e trainer owned by Doug Brooker will also be attending the event from next Wednesday which coincides with the Hawke's Bay Airport's 50th anniversary celebrations.
It will line up alongside Brendon Deere's Ohakea-based Mk IX Spitfire fighter.
It brings to four the number of V12-engined fighters set to take to the skies. A P51 Mustang fighter and an Allison-engined P40 Kittyhawk have also been confirmed to take part.
As well as the second Spitfire, a Russian Yak3 fighter has been added to the line-up which includes a Grumman Avenger torpedo bomber.
The traditional Warbirds Harvards will also return.
"This will be the largest extravaganza of classic WWII aircraft to ever be seen in the Bay," a club spokesman said.
"It has been a massive effort by the committee to organise an event on such a scale as this."
All the aircraft will take part in flying displays over the airport and city and will be joined by a Royal New Zealand Air Force Iroquois helicopter and one of RNZAF's new A109 light utility helicopters which will be on static display.
On the Friday evening leading into the Tremain Art Deco Weekend the aircraft will put on a display from 7.45pm along the foreshore off Marine Parade, with the best views near the Soundshell.
To add to the military feel it is planned for the visiting navy inshore patrol vessel HMNZS Hawea to carry out a close-to-shore run along the waterfront at the same time.
Air displays will also be staged over Napier from 12.15pm on the Saturday and from 2pm over Marine Parade and the Gatsby Picnic.