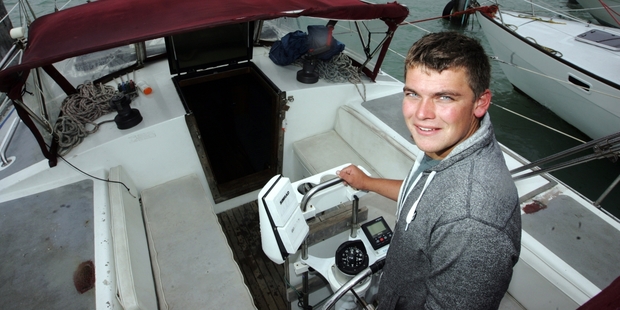 A 22-year-old man with a big dream has arrived home safely in Hawke's Bay after sailing from America in a 44ft ketch called Dulcinea, which he bought and repaired himself.
Napier man Finn Topzand-O'Rourke picked up sailing at a young age but, before setting off from California on September 8, he had done no more than 400 miles (650km) in one week.
"Then I went and did 6600 miles. There were a lot of [sceptical] people, but there were a lot of positive people who had done similar and knew that I was going to be all right."
After flying to the US on July 29, he found a boat that was "within budget" but needed fixing before it was ready to set sail.
"No American would touch it because it needed a lot of work. I spent about five weeks on it. When I was finished, I looked for a crew using the website Find Crew."
With two new shipmates in tow, he set off for New Zealand - stopping in Hawaii, the tiny isolated island of Fanning, Samoa, Tonga, Opua in the Bay of Islands, Auckland, and then, after a month's rest and a change of crew, home to Hawke's Bay.
"We arrived back [in New Zealand] on December 8. It went roughly to plan but you can never make too much of a plan because you need that flexibility."
Despite all the places he visited, it was on the open water where Mr Topzand-O'Rourke experienced some of the journey's more memorable moments.
"I had some really cool times, always when I was by myself. I had two moments where I could not stop smiling for a couple of hours - one where we were heading into a thunderstorm, there was thunder up ahead, shooting stars all around and dolphins lit up by fluorescence.
"There was another time when we had a thunderstorm and these yellowfin were jumping, and another fish came the other way and grabbed one in the air. I spent an hour a day just staring, it was so relaxing."
Part of the challenge was ensuring they had enough supplies on board to fix issues with the boat as they went.
"It's hard but it's quite rewarding. All sailors talk about it because you go from port to port, but freedom is a big thing when you are out in the middle of the ocean.
"You are completely self-reliant."
It was unusual for someone his age to tackle such an ambitious task but showing he could succeed was the most satisfying feeling.
"It's rewarding when things do go to plan.
"I'm 30 years younger than any of the other sailors in port but I feel like I'm doing what New Zealanders used to do 100 years ago.
"There were people my age doing this but it was more complicated then, because they had to build the boats. It's quite cool to be going back to how people used to do it."
Now based in Hawke's Bay, Mr Topzand-O'Rourke aims to earn enough money to get his captain's ticket and gain sponsorship to further his career.
People interested in looking back on the adventure or who may be interested in providing sponsorship can search for "The Adventures of Dulcinea" on Facebook.