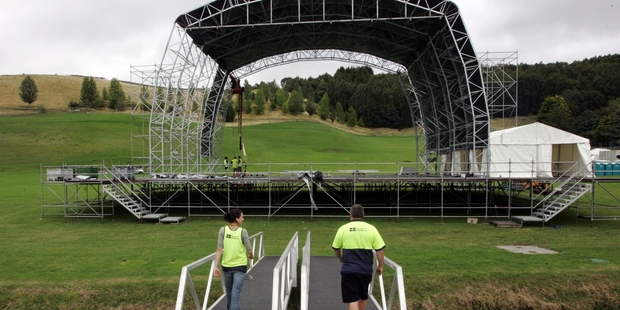 For the crew creating the Mission Concert stage, the unseasonable weather of the past few days led to work being called off last Saturday and some challenges yesterday getting the fabric roofing in place.
"But it's all pretty well on track," T and C Staging owner/manager Stephen Kemble said at the site yesterday, as he kept one eye on the fast-moving clouds above.
Concert organisers and those set to comprise the hillside audience on Saturday have also been keeping an eye on the weather and, at this stage, according to MetService, the news is all good - except maybe for the soundchecks on Friday when rain is set to sweep over the region again. That will be only briefly, as the long-range forecast for concert day is a good one.
Fine skies with light winds and a temperature of 25C are forecast in what appears to be a blue sky oasis in an otherwise uncertain and uncharacteristic damp spell.
While Sunday, the pack-up day, is also set to be fine, rain is forecast to return on the Monday and linger until Wednesday.
The improving conditions forecast for today and the following two days will be welcomed by the setting-up teams.
The stage arrived direct from its last concert site in Rotorua last Thursday and the seven full-time crew and six local workers got to work on Friday - although Saturday was literally a washout as rain swept the site.
"But that's just the way it is. You can't do anything about the weather and there haven't been any real issues," Mr Kemble said.
The New Zealand-built stage, which has been used only three times previously and will be making its Mission debut, is slightly smaller than last year's, which is being set up in Auckland for the Eminem concert there.
The stage was brought to Napier aboard three 15-metre trucks.
It is the also first time Mr Kemble's company has been called in to set up the stage for the Mission and he was impressed with the site.
Several large tents had also gone up by late yesterday and portable toilets and generators were arriving on site.
The first of the Mission artists, ex-Spice Girl Mel C, is expected to be the first to arrive in the Bay, late tomorrow.
She will join the party-night line-up with Billy Ocean, Sharon Corr, Leo Sayer and Ronan Keating.