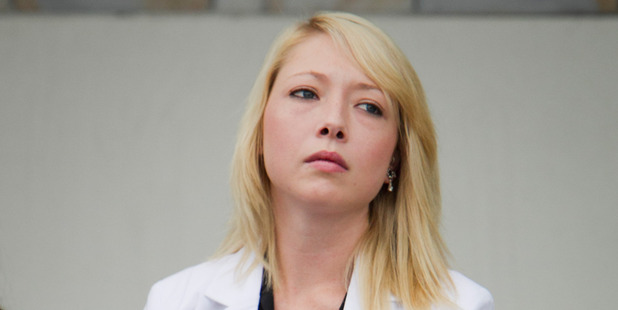 A woman charged with fatally stabbing her boyfriend told police she would "never have gone to that extreme" despite "full-on" arguments the couple sometimes had, a jury has heard.
Juliette Anne Gerbes, 21, is on trial in the High Court at Napier after pleading not guilty to a charge of manslaughter.
The court was told Christopher Jones died from blood loss after a knife wound to the abdomen early on October 13, 2012.
Crown Prosecutor Clayton Walker said the trial was to decide whether Gerbes, Mr Jones' girlfriend, was criminally responsible for his death.
Gerbes denies causing the fatal wound and says Mr Jones pulled the knife into himself after a heated argument with her.
During his opening address yesterday, Mr Walker told the jury the argument had broken out at the couple's Hastings flat. Slaps and punches had been thrown by both, and Mr Jones told Gerbes he was going to a bar to find another girl.
Gerbes told police Mr Jones was choking her on the bed at one point.
Mr Walker said when Mr Jones left the bedroom, Gerbes believed he was going to the bar. She went to lock the doors so he couldn't get in later, but found him in the kitchen/lounge area.
The argument continued and Gerbes picked up a knife from the kitchen bench.
"Ms Gerbes told the police she grabbed the knife because he was intimidating her and taunting her. Then, she said, she's not clear how it happened but she did not stab him."
Mr Walker said she then left the kitchen to call an ambulance, running into a flatmate as she went.
The Crown alleges she told the flatmate she was "sick of this sh*t" before running down the hallway.
"There is no dispute that immediately before the wound was inflicted, the knife was held by Ms Gerbes. The primary issue is whether the wound was self-inflicted by Mr Jones pulling the knife into himself or whether she inflicted the wound," Mr Walker said.
The Crown did not accept it was self-inflicted.
Gerbes' lawyer, Eric Forster, said the defence would be focused on issues of self defence and causation.
"She accepts she brandished the knife to repel him, she did that in self defence.
"In any event, she did not cause the knife wound."
On October 13, Gerbes told police she had not aimed the knife at, or thrust it at, Mr Jones: "He pulled it towards him, I didn't even know he'd stabbed himself."
She said the colour drained from his face and he told her to call an ambulance.
"He lifted up his T-shirt and there was all this blood and I didn't know what to do. I would never have stabbed him, I would never have gone to that extreme, I would never do anything like that."
She said she hadn't been shocked by the violence, including the choking, before the fatal incident. It had happened before, she said. She and Mr Jones had ended up with black eyes as a result of their arguing.
A flatmate of the couple gave evidence, saying the altercation disturbed him and he went to tell them to be quiet.
He felt Gerbes and Mr Jones had a good relationship: "They both obviously loved each other quite a lot. Sometimes they would argue, sometimes it would get heated. On the drinking side of things, sometimes it could get quite volatile."
He said he once saw Gerbes slap Mr Jones' face.
The night of the incident the flatmate was in his room when the couple started arguing.
"Just yelling, pretty much mostly, just yelling. I couldn't really determine who it was ... 10, 15, 20 minutes later there were more noises, but a lot louder, coming from the lounge and kitchen area."
He had almost crashed into Gerbes as she was exiting the kitchen area and looked to see where she was going.
"I turned around 'cause she was moving quite quickly. When I looked into the kitchen, he (Mr Jones) was on his feet between the table and the fireplace, slowly moving into the lounge before he collapsed.
"He was quite pale, he was in shock ... I freaked out quite a bit, started yelling out for my girlfriend to get her to call the ambulance. I got a towel and covered his wounds, tried to keep him awake and looking at me."
He told the court he instructed another flatmate to find Gerbes to see what had happened: "We couldn't get much out of her, she was crying."
The second flatmate gave evidence that he found Gerbes on the floor in her room, weeping.
Mr Forster asked him: "She told you, 'I hit him, he hit me back, I grabbed the knife and then he pulled it towards himself. I swear I didn't do it.' Is that right?"
The witness confirmed that was correct.
The girlfriend of the flatmate who found Mr Jones also gave evidence. She said she had heard arguing, including "screaming".
She had heard something along the lines of "get off me".
Asked by Mr Forster if that made her alarmed for Gerbes' safety, she said it did.