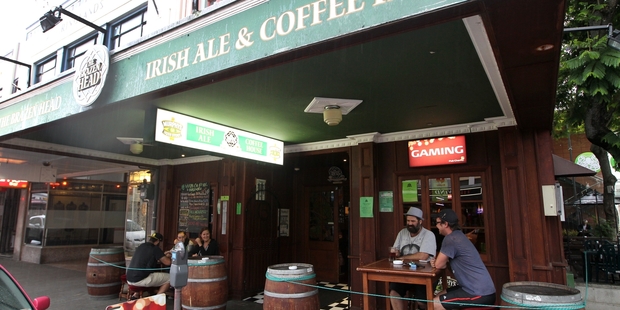 A Napier bar manager was recovering in hospital last night after a violent daylight attack and attempted robbery carried out by a patron.
Police are hunting the assailant who fled the Brazen Head Irish bar and cafe in Napier's Hastings St after bashing the manager yesterday afternoon.
The 34-year-old victim was struck in the head and had teeth broken during the attack which happened about 4.25pm.
Napier CIB Detective Sergeant Emmet Lynch said the attacker had been in the pub playing its pokie machines for about two hours before the assault took place.
Mr Lynch said the attack appeared to be an "opportunist" attempted robbery that proved unsuccessful.
"He would have taken the opportunity knowing full well that sooner or later that till close to the pokie room would have been opened." The robber struck the manager on the head when he opened the cash register but was unable to take any cash.
He then fled from the pub leaving his victim with significant facial injuries including broken teeth, a nose injury and swelling and bruising.
Mr Lynch said the victim was still in hospital last night and was likely to require dental surgery and further checks on his face bones.
He described the incident as "a callous attack".
"His back was turned, he was struck not expecting the blow."
The attacker was last seen fleeing the pub near the St John's Cathedral fountain on the corner of Shakespeare and Browning Sts.
Police patrols, including a tracker dog unit, were unable to locate him.
The attacker was described as a Maori in his early 20s and of average height and build.
He was wearing a grey cap, a dark Puma brand sweatshirt with a white jumping Puma logo on the front, dark tracksuit pants and distinctive black and white shoes.
Mr Lynch said police wanted to hear from anyone who had seen a man matching the attacker's description.
It was possible he was known to pubgoers given the amount of time he had spent at the Brazen Head before the attack.
Several patrons were in the bar at the time and have been spoken to by police.
Police were using closed-circuit TV footage from the pub to help identify the man and were also hoping other cameras in the area would help establish the direction he had fled. Anyone with information can call Napier police or phone Crimestoppers anonymously.