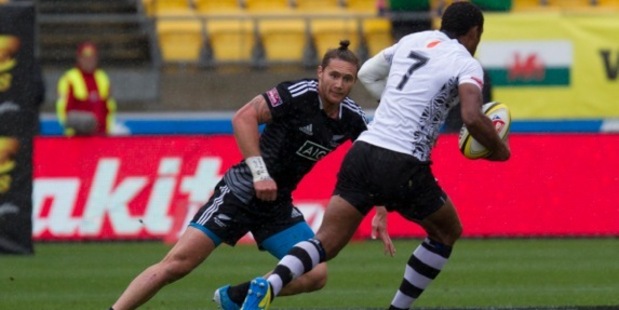 THE question had to be asked of Hawke's Bay's All Black Sevens star Gillies Kaka last night.
Is his topknot hairstyle part of a plan to reduce the ribbing he has been attracting since lining up with eight other high-profile Sevens and All Black players in a bid to find the new face of underwear manufacturer Jockey this week?
Kaka sported the hairdo during yesterday's first day of play at the Wellington Sevens in Westpac Stadium.
"I just thought I would try something different ... I've been growing it for a while," Kaka replied after the New Zealand team's 55-0 demolition job on Spain in their second Pool B outing.
"I didn't want to cut it off but it was a spur-of-the-moment decision to tie it up.
"I'll definitely keep it for tomorrow," he said.
Ngati Kahungunu's 2013 Sportsperson of the Year, Kaka, 23, is playing in his second Wellington Sevens.
"It's a bit easier this time. Last year's tournament here was my debut on the World Series circuit," he said.
However, he was quick to point out All Black Sevens coach Sir Gordon Tietjens and the rest of the side were "a bit disappointed" with their opening pool encounter, a 12-7 loss to Fiji.
"We know we didn't play to our potential and a few weakness were exposed.
"Not much was said after that loss and we got back on the horse against Spain," Kaka said.
"We bounced back and pleased the coach. It's important we take that form into the France game."
Kaka said although the rain kept a few spectators away there was still a big reception for the host side when they began their warm-ups for the first two pool games.
And was he happy with his own form?
"Yes ... I'm starting to get my game fitness back. I just have to get involved more and get my hands on the ball more," Kaka replied.
The games against Fiji and Spain were played in greasy conditions after the rain had arrived.
After Fiji's Samisoni Viriviri and Manawatu's Scott Curry were sinbinned late in the first half, both sides had six players on the field when Emosi Mulevoro went over for the first try to give the Fijians a 5-0 lead at the halftime break.
New Zealand took the lead midway through the second half when experienced Counties Manukau speedster Sherwin Stowers scored under the posts and Kaka added the conversion.
However with two minutes remaining, Viriviri scored what proved to be the matchwinning try and Mulevoro added the extras.
Stowers' first half hat-trick was the highlight of the All Black Sevens win against Spain.
The Kiwis ran in nine tries against a woeful Spain side who had lost 21-15 to France in their first game.
Kaka, who won the player-of-the-tournament award when the All Black Sevens won the World Cup in Moscow last year, played the second half of this match.
Manawatu's Tomasi Cama missed the Fiji game in his first tournament back after missing the Las Vegas tournament with a calf injury but played against Spain.
New Zealand booked a quarter-final berth against Canada with their 47-0 thrashing of France in their final game last nght.
Kaka again started ahead of Cama, who got on to the field the final three minutes and 50 seconds.
All Black Sevens captain DJ Forbes secured third place on his team's all-time tryscorers' list be taking his tally to 114 when he scored in the second half.
Kaka set up the first try for Tim Mikkelson after drawing two Canadian defenders.
He also impressed with his link play and goalkicking.
Cama and Mikkelson are the only players ahead of Forbes on the New Zealand all-time tryscoring list.
Other quarterfinals today will see England take on Samoa, South Africa meet Australia and Fiji play Argentina.
Results: Canada 17 Scotland 14, Argentina 19-14, Samoa 24-12, Australia 31- Tonga 5, South Africa 26-0, England 36 Portugal 7, Fiji 12 NZ 7, France 21 Spain 15, Canada 29 US 12, Argentina 17 Scotland 12, Samoa 31 Tonga 7, Australia 24 Kenya 0, South Africa 27 Portugal 5, England 21 Wales 7, NZ 55 Spain 0, Fiji 26 France 5, Scotland 19 US 19, Kenya 40 Tonga 7, Wales 45 Portugal 19, Fiji 45 Spain 14, Canada 24 Argentina 5, Australia 15 Samoa 12, England 19 South Africa 5, NZ 47 France 0.