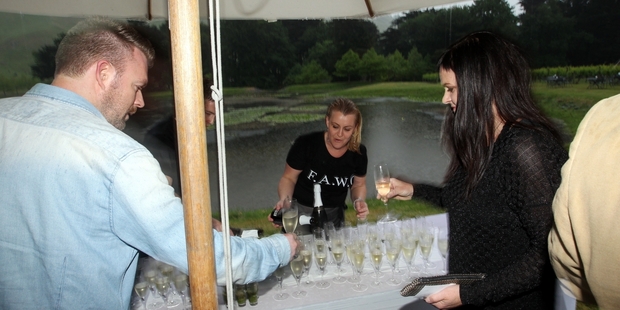 The experience of Hawke's Bay's premier Food and Wine Classic (FAWC) would be diminished if glassware was to be banned from events and tastings, organisers say.
It was an issue raised by a discretionary condition in the proposed Napier and Hastings joint draft alcohol policy, which could render events requiring a special licence unable to serve wine in glasses.
"It's about showcasing the best wine the region produces in settings and locations that help sell our region," Hawke's Bay Tourism general manager Annie Dundas said.
"Showcasing wine is best done in a glass, to not allow that to happen will damage our reputation as a premium wine region."
It was unlikely to hurt events running within existing restaurant structures, but posed a problem for those which were held in marquees, including the grand opening of F.A.W.C!, which had been hosted at Craggy Range for the past two years.
"In a fine glass is exactly how people want to enjoy their wine, one of our major sponsors makes glassware, it affects the colour and complexity, how it looks and smells."
There was no need to change from the status quo as there weren't any issues with the current system, Ms Dundas added.
"In the F.A.W.C! schedule and the likes of Martinborough Wine and Food, I have never heard of any problems with glass. I would hope the powers that be don't see any competition when it comes to glass vs plastic."
Black Barn Vineyards wasn't against the idea of plastic vessels, as it already distributed them at outdoor events, but would not welcome a change to plastic bottles. Making the switch would see a drop in quality, presentation and mean added costs for the business.
"There's no other way of delivering those beverages other than glass bottles ... it simply wouldn't work" cellar door and events manager Francis De Jager said.
"I would expect and presume that authorities such as the councils, district health board and police would look at this condition and use some common sense - as a venue, we work really closely with those guys anyway."
When Black Barn first made the change from glass to plastic there were initial teething problems, however after experimenting it found a suitable alternative. "The first plastic glasses we used splintered, now we use Gorvino ones which are recyclable and rewashable, we pass them on to customers at cost for their drinking pleasure - we encourage them to take them home, wash them and bring them back next time."
Hastings Community Safety Manager Phil Evans said the draft LAP contained a number of discretionary conditions that may or may not be incorporated into the final policy.
"It will be up to the District Licensing Committee to determine when they are appropriate to use. We have received a range of submissions, commenting on all aspects of the draft which will be presented to the committee."