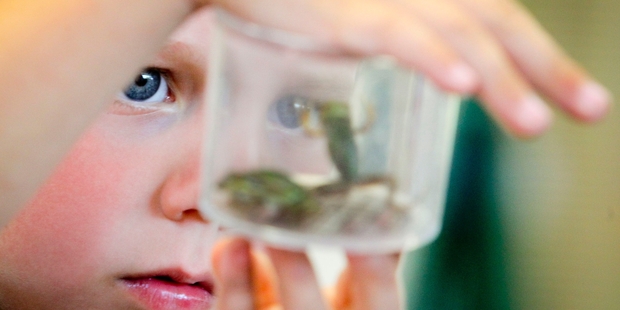 Hundreds of children embarked on a 13-year educational journey yesterday, as new entrant students filed into the classrooms of Hawke's Bay's primary schools for the first time.
Hereworth School new entrant teacher Shirley Cameron spent the day teaching her five-year-old students about amphibians.
"We went into town and bought some little frogs, some nets to catch the flies for what was some enquiry-based learning."
She said a class blog has also been established where photos are uploaded for parents to see and experience their children's school day.
Nicola Caton was a proud mum sending her four and three- quarter-year-old son, Cody, off to Hereworth School to join his brother and two cousins already at the Havelock North elementary school.
"He is really keen otherwise I wouldn't be sending him off this early, it's really cute."
Hastings Central School principal Alan McDonald said most of the school's eight new entrant students were a part of the KickStart programme.
"Every Thursday last year these kids would come in and get to know the place, so the school and classroom is a little more familiar for them."
Hastings Central School's new entrant teacher Tracey Still said her class would grow to include some 20-plus new entrant students by the end of the year.
"Most of these kids were in the KickStart programme so I already knew what students I would be getting, I was really looking forward to term one," Ms Still said.
She said day one was spent teaching her class what a "good learner" was and incorporated games such as treasure hunt.
When Hawke's Bay Today arrived at the school the students were enjoying a video reading of the well known children's book Rainbow Fish.