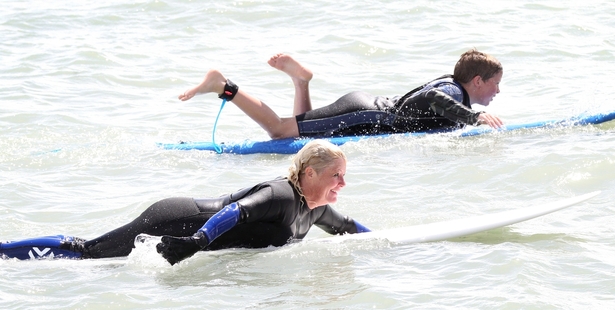 Hawke's Bay's "surfing lawyer" has passed the sport's competitive bug on to her 11-year-old son, Christopher, who will be joining her at a competition in Whangamata for the first time this week.
Marguerite Vujcich, aged 54, is originally from South Africa and started in the sport competitively when she was a teenager living in Durban.
She worked as a court lawyer in Auckland for about 20 years before she was diagnosed with chronic fatigue syndrome.
It was an illness that ended her law career but reignited her surfing ambitions when her family moved to Hawke's Bay and she rediscovered her 30-year-old surf board.
She has since amassed seven trophies and competed around New Zealand and represented New Zealand in Australia last year, but says the chance to be in the same competition as her son is a special thrill. "He's in the under-14s and I'm in the opens - with all those youngsters."
She said surfing was incredibly therapeutic for her condition.
"Some days I know there's a good wave running and I can't get there - the fatigue is just too great and I just have to lie in bed.
"But some days, even if I feel tired, if I can just muster enough energy to get to the ocean and get in there, when I come out I feel a thousand times better," she says.
"Of course on a good day I'm just down and out there. I'm always thankful for those great days."
Ms Vujcich has a busy calender of surfing events around the country throughout the rest of the year.
"It keeps me focused, it gives me a goal."
Her immediate goal is for dual success for herself and Christopher at Whangamata.
She said: "If we can both make the finals that will be truly mighty. For me it's a dream come true. He's got the bug."