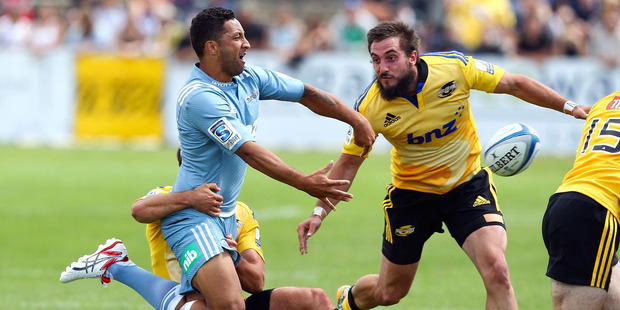 Don't be surprised to see Hawke's Bay Magpies rugby prop Brendon Edmonds boarding a flight to South Africa with the Hurricanes later this month.
Magpies coach Craig Philpott said Edmonds played "really well" during his 40-minute stint at tighthead when the Hurricanes opened their pre-season schedule with a 38-35 win against the Blues in Masterton on Saturday.
"Doogie's [Edmonds' nickname] scrummaging was strong, he was effective around the paddock with a couple of carries and he produced a massive hit on Brendon," Philpott said, referring to Magpies and Blues flanker Brendon O'Connor.
"I'm not holding my breath. But hopefully I showed enough of what I can do to the Canes selectors to make them want to give me a crack at the South Africans," Edmonds said.
And the hit on O'Connor?
"Yes we both had a smile about it at the bottom of the next ruck and Brendon gave me a congratulatory pat on the head," Edmonds said with a laugh.
Should Edmonds make the trip to South Africa for the Canes first two Super Rugby competition outings against the Sharks and Stormers it will be another step in the rapidly moving career of the Havelock North club player who has played 24 first class matches for the Magpies.
Edmonds was unlucky to miss out on a wider training group berth when the Hurricanes squad was initially announced in October.
However, by the end of November he had been called into the group as a replacement for Wellingtonian Eric Sione who collected a season-ending injury. With another Wellingtonian, Reggie Goodes, out for 12 weeks with a toe injury and Magpie Ben Franks and fellow All Black squad member Jeffery Toomaga-Allen still on holiday, Edmonds joined Magpies lock Mark Abbott in the starting line-up on Saturday.
"I've learned a lot of stuff. The game is pretty quick at this level but I've adapted pretty well," Edmonds said.
Abbott also made his Canes debut and Philpott said he performed well during his 60 minutes of action. Another Magpies prop, Adrian Barone, had 20 minutes off the bench for the Canes.
Barone was called into the Canes camp last week after Goodes was ruled out. The Canes have two more pre-season outings, an away clash against the Rebels on Saturday and one against the Crusaders in Levin on February 14, before the South Africa trip.
Former Kiwis rugby league captain Benji Marshall played first five-eighth for the Blues during the first half. Coach Sir John Kirwan said Marshall could be proud of his first match.