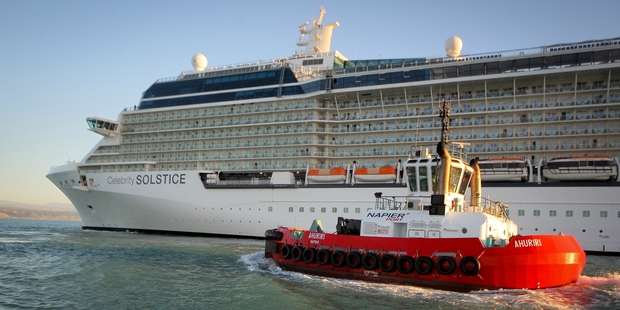 The arrival of the super liner Celebrity Solstice at Napier Port yesterday was a symbolic moment in what has been possibly the biggest cruise week ever in Napier outside of Art Deco Weekend.
At 314 metres long and carrying more than 3100 passenger and crew of more than 1200, it's the biggest liner to have visited Napier.
It is 3m longer than the Voyager of the Seas, which is now a frequent visitor and arrived with a similar complement on Tuesday, in a four-day wave of five liners with a combined total of more than 10,000 passengers and almost 4500 crew. The number of passengers and crew on each of the two bigger liners was more than the number of passengers who arrived in the whole of one season 10 years ago, when there were just eight visits (the biggest with 650 passengers), which compares with the 58 scheduled for this season.
For some it was like Napier's big weekend on February 19-23 came early, including the Art Deco Trust, with all available guides on a roster of about 70 volunteers hitting the streets with their lapel-microphones to show more than 600 people the city, with a commentary of architectural history and features.
Walks and tours manager Nicola Pentelow said about 23 guides had been needed each day, co-ordinated so that all could start and finish at staggered times to co-ordinate those watching the short film which ends each tour.
Women's clothing retailer Carol Biesiek, manageress of new Emerson St shop Merric, was ecstatic about both the atmosphere and the business generated by the numbers in town, who, several observed, were shopping more than those on many of the previous tours.
"We love it," she said. "It's so inspiring."
She said there had been a lot of feedback in the shop from visitors, who were impressed by Napier as a destination, from things to do, including the shopping, to the weather.
"A lot have been saying they have been shopping at other ports, but they've just been priced out of it there," she said.
A bike rental firm reported its busiest day ever, and coachlines company Nimon was understood to have pressed about 36 coaches into service yesterday.
It was a particularly big day for a group of teenaged Hawke's Bay actors on their first Napier street-theatre outing. Expertease Theatre Group members Charlie Cottrell and Taine Conway, both 15, 16-year-olds Brody Freemantle and Sinead Heggarty, and Meagan Frankum, 18 tomorrow, mimed the silent movie making of a romance entitled The Picnic.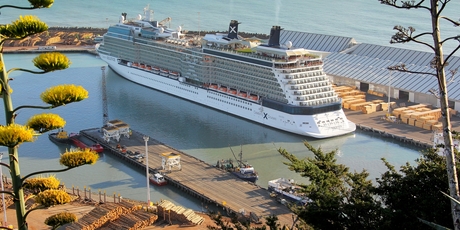 It was devised by couple Peter and Juliette Cottrell, bringing to Napier a concept they had used in the past while living in Brisbane. Yesterday was the first of a series of performances they hope will include Art Deco Weekend, and with about 12 young people now in the group, Mrs Cottrell said: "This lot a few weeks ago were pirates at Splash Planet".
Among those watching was Jim Normark, a pharmacist from Seeley Lake, Montana, on a 14-night, seven-stop Sydney-Auckland cruise in a party of eight family and friends.
It includes wife Marlene, their own personal "tour director" with a penchant for pre-berthing research to make sure they know where they're going and what to do.
"It's our first time in New Zealand and we are really enjoying this city," Mr Normark said, despite the stop being less than 12 hours. "It is very fascinating, the vintage cars and all the period things. And it's very nice to see how clean and pretty the city is. It is very much like what we thought it would be like."