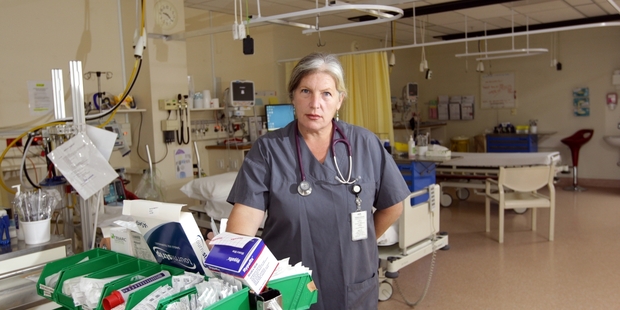 The equivalent of several months' worth of trauma patients in one day has prompted a repeated call for appropriate use of the Hawke's Bay Hospital's Emergency Department (ED).
Head of ED, Dr Renee Greven-Garcia, said most of the Christmas/New Year holiday period was "mostly manageable" after the previous Boxing Day and New Year's Day saw record presentations.
"However January 2, which was a public holiday, turned out to be a day when staff had to deal with the equivalent of several months of trauma," she said.
ED was swamped, starting early in the morning after a van with eight people crashed down a 15m cliff on the Napier/Taupo road, injuring all occupants including a baby. In the afternoon there were three more traumas, one proving fatal.
"This day showed why it's important that people heed calls to take minor ailments to GPs - trauma is what we need to be available for.
"Our on-duty doctors and nurses were supported by colleagues who came in from their day off with families to manage the workload. Without that level of goodwill our resources could have been overwhelmed.
"The holiday period is always a period of increased presentations. Many GP practices close down, the area is full of visitors, outdoor and sporting activities are in full swing. We accept that we will be busy.
"But what frustrates our staff is people who abuse alcohol and harm each other.
"We see far too many people for injuries in which alcohol is a contributing factor. And on New Year's Eve there were a number of alcohol-related incidents and trauma. It is particularly taxing for our staff to deal with intoxicated people."
An Otago University study found almost a third of those seeking emergency hospital treatment on Saturday nights in Christchurch Hospital were drunk.
"Hawke's Bay could probably say the same some nights."
The study found almost 7 per cent of alcohol-affected patients were abusive when dealing with staff. Drunk patients took longer to process because they cannot relay their symptoms reliably, so extra precautions and resources are put in place.
Another study, which took a snapshot of 14 emergency departments (including Hawke's Bay) found one in five patients was admitted due to harmful alcohol use.
"The abuse of alcohol remains a challenge for our department," Ms Greven-Garcia said.
"We look forward to working with others to prevent and treat the harm abuse of alcohol has on our people and our health system."
The Hawke's Bay District Health Board has a free phone service - 0800 33 88 99 - to enable people to find out where their nearest medical centre is for non-urgent cases.