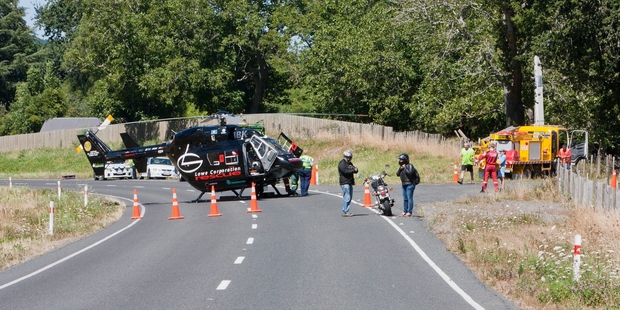 A motorcyclist died near Wairoa on Saturday and a 50-year-old meat works employee was critically injured yesterday during a weekend of tragic accidents in Hawke's Bay.
Emergency services were called to State Highway 2 in Putorino at 10am after a motorcyclist left the road on a bend and crashed through a fence.
The Putorino Rural Fire Service cordoned off State Highway 2 for the Lowe Corporation Rescue Helicopter to land and traffic was diverted.
Medics fought to revive the man but he was pronounced dead at the scene. Traffic was diverted through the farm of former Wairoa mayor Les Probert. Police have not yet released the name of the deceased.
St John Hawke's Bay district operations manager Stephen Smith said why the man died was not yet determined.
"We are unable to speculate as to the cause of the accident at this time - it is really in the hands of the police and the coroner.
"When we responded we knew the gentleman was in a critical condition at the time and that CPR was being performed, so we sent a couple of staff on the helicopter and an ambulance from Wairoa.
"He was deceased when they got to the scene and it is very difficult to establish the cause of the accident."
Another serious accident occured yesterday when a 50-year-old man received serious head injuries and was in a critical condition after a stock loading race he was operating, at Alliance Meat Works in Dannevirke, fell on him.
Mr Smith said the man then fell up to five metres and landed head first on steel.
The Palmerston North Rescue Helicopter responded to the accident at about 3pm to meet a road ambulance which had transported the man to Dannevirke Aerodrome.
A St John Ambulance Service advanced paramedic stabilised the patient before he was airlifted to Palmerston North Hospital with life-threatening injuries.
A Work Safe New Zealand spokesman said they were aware of the incident and local staff are making preliminary inquiries into the accident.
It is also believed a Ministry of Business, Innovation and Employment investigation will be launched.
The Lowe Corporation rescue helicopter was also called to a job at Lake Waikaremoana on Sunday morning.
A 23-year-old woman was taken to Hawke's Bay Hospital from a beach below Panekire Bluff at Lake Waikaremoana in the early hours of Sunday morning, as a result of a medical condition.
Lowe Corporation Rescue Helicopter crewman Geoff Taylor said it was "technically an interesting job".
"It was dark and there were no other agencies involved - we were sole response," he said.
It was an isolated spot.
"The people in the party had a boat and they took it into the middle of the lake to get cellphone coverage and raise the alarm about midnight.
"It was quite difficult -we couldn't actually establish comms with them and had to
do a bit of extrapolation and
guesswork.
"We found them because they were waving lights in the dark. It was about 1.30am by the time we got there and it was quite difficult to find a landing site - there are not too many little beaches there but we eventually got on one, which was good."
The woman was discharged from Hawke's Bay Hospital yesterday morning.
A woman in her 70s succumbed to a medical condition on a walking track in Havelock North yesterday morning.
The rescue helicopter winched her on board near the water tanks at Hikanui Drive and took her to Hawke's Bay Hospital where she was in a critical condition.