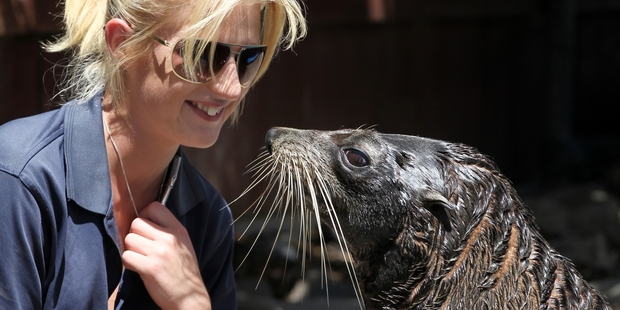 Napier teenager Sonja Murray will wave goodbye to the dream job as the last of Marineland's mammals jet off to new homes in Australia.
She was 12 when she first connected, swimming with the dolphins, as the public could do in those days.
It was about then a trainer suggested she become a volunteer keeper as Napier's former tourism cornerstone turned into some sort of marine life retirement village.
"Highly exciting when you're a 12-year-old at Tamatea High School," she said yesterday, seven years later.
Marineland's dolphins are now a thing of the past and remaining sea lions and seals are on their last public Napier fling before being quarantined ahead of their transtasman migration.
Regulations require 120 days in quarantine for sea lions Orion and Dakota, aged 16 and 9 respectively, before they depart for Sea World on Queensland's Gold Coast. Likewise fur seals Molly (the 13-year-old eldest resident), Ollie, Mr Bo Jangles, Pania, Iha and Mako, being dispersed among Coffs Harbour's Dolphin Marine Magic, Taronga Zoo in Sydney, and Melbourne Zoo.
The now 19-year-old Miss Murray, whose grandfather still talks about the days he was a zookeeper at Wellington 40-or-so years ago, apparently her own umbilical to the care of animal life, clearly would like to be going with them.
She's been at it part- or full- time about five years and said: "It was definitely the dream job."
"I plan to follow this line of work," she said.
But it's unlikely she'll be worrying about the scientifics of university study, and equally unlikely the future is in New Zealand.
"I like the practical stuff," she said. "But there's not too much in this industry here. It's all overseas."
Like current senior supervisor Regan Beckett, who has been at Marineland longer than any of the remaining mammals, Miss Murray at least does get four months to say her goodbyes to the "pinniped" population, possibly longer if there are any hitches along the way.
To meet Australian requirements, they will have to change to treated water and be blood-tested to ensure they're not transporting any unwanted bugs, and they'll be microchipped, so they're properly identified in accordance with registration with national stud books, DoC, the Ministry of Agriculture and Forestry, and the US Department of Commerce: National Oceanic and Atmospheric Administration.
It will be overseen by consultant veterinarian Mike Lintott, of Napier's Carlyle Veterinary Clinic, andonly authorised people will be allowed to be with the mammals.
Napier City Council tourism services manager Neil Fergus said if issues developed, such as those that might come from blood test results, the quarantine could be longer, and the programme could have to start again.
Mr Beckett says he, too, will miss the animals, but he's pleased they're going to good homes.
"They've been accepted into some amazing zoos," he said.
With the facilities of Marineland well-worn, the Mayor of Napier, Bill Dalton, said the future accommodation would be be "a bit like being upgraded from a tired motel room to a suite at the Hilton."
The quarantine represents the wind-down of Marineland which attracted thousands to its performing dolphin shows after opening 49 years ago, a must-stop on any family holiday in Hawke's Bay.
Among the visitors was the Queen in 1970, when the turnstiles clicked past one million, but a long and painful demise has been around since 1983, when a permit to catch dolphin was cancelled, the situation more pronounced after the Minister of Conservation turned down an application to catch six dolphin and a leopard seal to replenish the ageing marine troupe.
Save Marineland battles have continued despite closure of the park to the public in 2008, and current proposals to replace the pools are skatepark, reef garden, amphitheatre and carpark as part of the council's redevelopment of Marine Parade as a playground for "kids of all ages."
The relocation of Marineland's stock was given qualified approval yesterday by the executive director of animal confinement opponents SAFE.
Hans Kriek, of Christchurch, said that "unfortunately" the animals which had been kept in captivity could not be returned to the wild, because they would struggle to survive in the new environment.
The Marineland closure was long overdue, he said, adding the average life expectancy of its dolphins had been well less than the average for the dolphin population, showing the facilities had never been suitable.
"It's been a long process," he said. "But it's been inevitable."