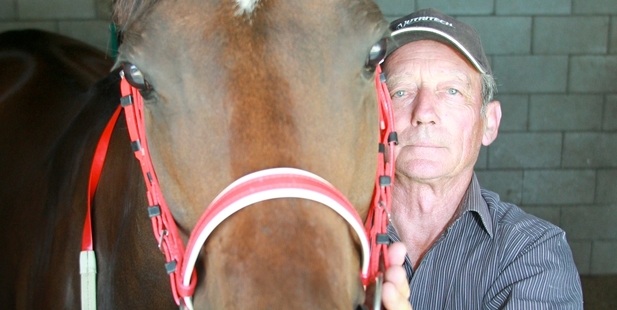 THE chiefs of thoroughbred racing believe the code is an integral part of the entertainment industry so racegoers don't mind forking out money for tickets at race meetings.
"We believe that attending a race meeting is worth paying for, just like a rugby or cricket match. The customer experience at race meetings is now better than what it's ever been and Kiwis are recognising that," the New Zealand Thoroughbred Racing chief executive Greg Purcell says.
NZ Racing Board/TAB chief executive Chris Bayliss echoes Purcell's sentiments: "The cost racing clubs charge for attending is much less than for many other comparable entertainment experiences."
The CEOs were responding to questions Hastings trainer Patrick Campbell raised in Hawke's Bay Today before the $15,000 Russell Roads Hastings Cup race of the annual New Year's Race Day meeting in Hawke's Bay this month.
In pointing out the stake money for the Hastings Cup has been shrinking from $25,000 in the past four years, Campbell had said: "In another couple of years, it'll be BYO."
He absolved sponsors of any blame, claiming the NZTR, its board and TAB hierarchy were failing to contribute in the country by not letting "a little bit [of money] in the kitty" filter through.
Purcell said NZTR's commitment was to a sustainable and prosperous industry. "But put simply, we have to live within our means."
Its operational costs had purposely been held steady for several years to ensure income was invested to best benefit participants and customers by increasing prize money and improving tracks.
He credited the board, taking control in 2011, for pulling NZTR out of the financial doldrums.
"The finances were in pretty bad shape, with reserves having been run down primarily to prop up prize money."
Bayliss said the board contributed to almost 1 per cent of this country's gross domestic product. Devoid of commercial shareholders, it ensured all profit was returned to the industry.
"In 2012-13, the board returned 83c of every dollar bet in New Zealand to our customers and achieved a record financial result, which enabled a record distribution of $142million to the industry."
This past year's distribution alone was more than double what the board has in reserves ("kitty").
In previous years, the board had had no choice but to dip into its reserves to meet code and club needs but that was not sustainable and was not required in the last financial year.
"Our cash reserves have halved over the last 10 years as distributions to the industry have far exceeded earned profit over this period," Bayliss said, adding the board was suffering from years of under-investment for a company of its size and requirements.
Upgrading ageing technology and introducing new initiatives, such as the recent launch of live race streaming and soon a new mobile app, were on its agenda.
Purcell said contrary to Campbell's claim, prize money had increased and a key goal was to sustain that growth.
"Within five years, prize money - or returns to owners - will be 50 per cent greater than what it is now," he said, emphasising any increase in prize money had to be sustainable in the short, medium and long term.
On January 1, NZTR launched a prize-money model that substantially increased stakes in targeted categories across a hierarchical structure.
"Most importantly, these increases are sustainable and we are now fully funding prize money out of income rather than artificially propping them up through reserves as has been the case in the past."
Total stakes nationally had increased 14.2 per cent from $41.9million in 2011 to $47.9million this year.
At Hawke's Bay, the increase had been 13.9 per cent, from $2.4million to $2.7million, in the corresponding period. NZTR club funding to the Bay had increased from $725,000 in 2011 to $736,000 this year. NZTR's contribution to Hastings Cup prize money was unchanged.
Responding to Campbell's claims that NZTR and the board were too top heavy with people who had no feel for the betterment of horse racing, Purcell said NZTR had fewer than 30 people managing a national industry comprising thousands of participants.
"Our board comprises people who are not only passionate about improving racing but who have the commercial and strategic acumen and commitment to make it happen."
With millions of dollars involved and people's livelihoods at stake, he felt it was NZTR's job to make sure it was managed diligently and professionally.
Substantial changes were happening and would continue although not everyone would always agree them.
Bayliss said the board recently underwent a revamp, including its senior leadership team, to be more efficient. "This has included investing in talent and capability - as you would expect from a business that turns over $2billion, is one of New Zealand's largest retailers with more than 690 outlets and one of the largest broadcasters with Trackside TV and TAB TV."
Campbell had pointed to the NSW model where $10million was injected, but Purcell said one-offs weren't the sole solution.
"Government support is welcomed but it's primarily about us getting our own house in order first and foremost to make sure the industry is self-sustainable."
Bayliss said the board was constantly looking outside the square in all aspects of its business including launching new products, enhancing broadcasting operations and improving customer experience.
"We are well aware of the NSW Government subsidising stakes. This is a question for the Government, but we don't think government subsidising stakes is sustainable - we would prefer to see stakes increase organically, which is why we have a clear goal in our five-year statement of intent to increase stakes by 50 per cent."
He said the board had an excellent rapport with the Minister of Racing, Nathan Guy, who was a speaker at its annual meeting.
While the board was not involved in a decision by former minister Winston Peters to subsidise stakes with a $2million nest egg, which was not renewed on an ongoing basis, it was grateful to him for establishing the $1million a year Racing Development Safety Fund to help club projects boost safety at racecourses.
Purcell reckoned record crowds this summer were a reaffirmation the industry was offering a great day out. Bayliss said Campbell's idea of including a bet slip as part of the ticket was interesting but probably not sustainable in the current climate.