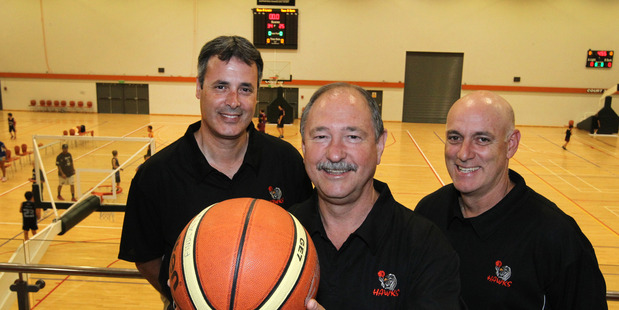 HAWKS basketball coach Tab Baldwin was spot on when he described Kevin Atkinson's contribution to Hawke's Bay sport.
"We revere people like Kel Tremain, Ian Smith and Paul Henare. Kevin Atkinson should be up there with them and I'm sure those in the Hawke's Bay arts scene will say the same thing," former Tall Blacks mentor Baldwin said yesterday.
He was speaking at a function in Napier where Atkinson's national payroll company IMS Payroll was announced as the new naming rights sponsor for the Hawks 2014 NBL campaign.
"We should be celebrating Kevin's contribution to the province's sports teams. This character exists in this province and Hawke's Bay people should be falling over themselves to congratulate him on his input," Baldwin said.
Atkinson owned the Hawks franchise for fours years in the early 1990s and IMS Payroll has been a significant financial sponsor since 1990. The Hastings-based company with more than 10,000 clients throughout New Zealand and the Pacific Islands also sponsors the Hawke's Bay United soccer team, Hawke's Bay rugby, the Hastings West Ross Shield rugby team and the Paora Winitana and Paul Henare Basketball Academy.
In less than a fortnight after being approached, Atkinson stepped up as a replacement after the HBS Bank decided it wouldn't renew its three-year contract as the naming rights sponsor and instead take on a lower-tier sponsorship role.
"It's a one-year deal, so that the Hawks can concentrate on winning the NBL title and be in a better position to attract a new major sponsor for a three-year or longer deal. I've always been involved with the Hawks and it's vital that the Hawke's Bay community and basketball fans have a team in the NBL," Atkinson said.
"The team has got a very strong chance of winning the title.
They have a great coach in Tab Baldwin and there are some exciting player announcements in the coming weeks."
Atkinson stressed the issue of television coverage for Hawks matches needed to be addressed.
Hawks general manager Tanya Dearns told the function no television coverage of Hawks matches has been secured for this season.
Baldwin pointed out a second import for the side could be confirmed within a week. Last month Napier-based American Kareem Johnson was confirmed as the first.
UCLA product and Kiwi passport holder Matt de Marcus, a son of Napier Sunhawks 1983 and '84 import Tom de Marcus, will play for the Hawks this season. Tall Black and New Zealand Breakers guard Jarrod Kenny signed for a sixth season last month.
Last year's captain and former Tall Black Paora Winitana, Everard Bartlett and Matt Wilson are other Bay-based players to commit. Former Waikato Pistons player Marco Alexander and former Nelson Giants and Otago player Darryl Jones are other confirmed Kiwis.
Former Hawke's Bay women's basketballer and Tall Ferns netballer Dearns pointed out she was "extremely relieved" when Atkinson stepped up.
"It certainly gave me some breathing space. I had only been in my role six weeks when the HBS Bank made their decision." She emphasised the HBS Bank decision was made at a national not local level.
Hawks chairman David Aflallo said everyone within his organisation was thrilled Atkinson's company will be the principal sponsor this year. "We couldn't have wished for a better outcome." The Hawks season begins with an away game against the Wellington Saints on April 2.