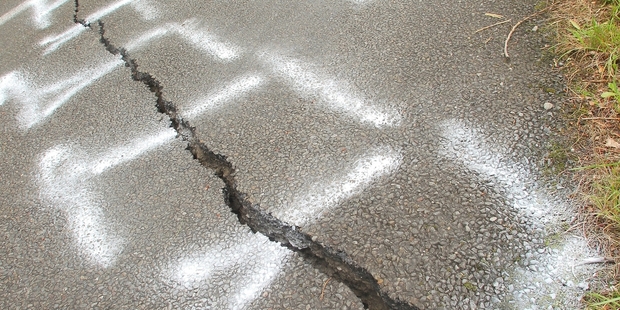 Aftershocks are predicted to keep rattling the lower North Island for weeks after Monday's 6.2 magnitude earthquake, as seismology teams try to calculate the chances of another large shock.
The Eketahuna quake struck at 3.52pm, and was centred 15km east of the town. The shake was felt strongly in both islands, and GeoNet received more than 9000 "felt" reports from the public, with multiple reports of damage.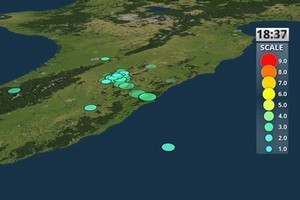 GeoNet duty seismologist Caroline Little said yesterday 319 earthquakes had occurred since Monday's big quake but most were below magnitude 3. "There were only 43 above magnitude 3," she said. The strongest was a magnitude 4.5.
GeoNet spokeswoman Sara Page said the aftershock sequence would be ongoing following the Wairarapa earthquake and would include numerous magnitude 4 events.
"As with any aftershock sequence, we cannot rule out the possibility of occurrence of future larger earthquakes.
"We have calculated aftershock probabilities.
"In the first week of the aftershock sequence, we estimate that there will be about 23 aftershocks of magnitude 4.0 to 4.9, with the final number probably falling between 14 and 33.
"We also estimate about two aftershocks of magnitude 5.0 to 5.9 with the final number probably between zero and five."
The aftershock region considered included Hawke's Bay and most of the lower North Island.
GeoNet estimates the depth and location of the quake, placing it below the interface between the subducting Pacific plate and overriding Australian plate.
The seismology team at GNS Science is also attempting to understand the earthquakes in the context of recent and ongoing seismic activity.
GNS seismologists are also comparing the current earthquakes with a sequence of events that occurred to the north of Eketahuna in the early 1990s.
The Earthquake Commission has begun fielding numerous calls from people putting in claims for damage, with the final date for making claims April 22.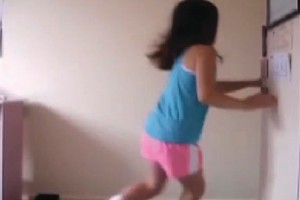 Tararua District Council roading engineers were checking all roads and bridges in the district, mayor Roly Ellis said.
The council's engineering services manager, Ray Cannon, said roads had slips with half a metre of slumping as well. "We've also got a couple of bridges with cracks on the pillars, but they're still safe," he said.
"Some of the bridges in our district have held up very well, despite that big shake and it's good to know we've infrastructure which can stand up to an earthquake of that magnitude."
Wairarapa MP John Hayes visited Masterton, Eketahuna Pahiatua, Woodville and Dannevirke yesterday to survey the damage.
"It appears the entire region got off light this time.
"There were no injuries and only minor damage to buildings. In each of the towns," said Mr Hayes. "There are a few chimneys down in Pahiatua and Eketahuna but no other visual damage to property."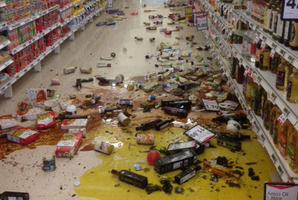 He said roading damage would be one of the big costs to councils.
In Dannevirke, the earthquake revived memories of the Mother's Day Quake when a 6.5 jolt was centred near Weber at 4.23pm on May 13, 1990.
Then, some houses were cracked or knocked off their foundations, many buildings in Dannevirke and towards the coastal settlements of Porangahau and Herbertville had broken windows and cracked chimneys, and at least one main street Dannevirke building had to be demolished.
That earthquake was also felt across Napier and Hastings, while at Cape Kidnappers, a group of about 10 people walking along the shore had to flee, some into the water, as rocks and debris fell from the coastal cliffs.
Within 24 hours of the main earthquake, which came about 12 weeks after another quake in the area measuring 6.1, there were seven aftershocks of magnitude 5 or greater. additional reporting APN