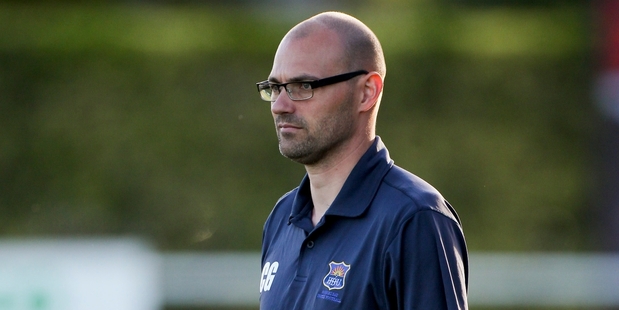 Sticking to team protocols guarantees success but allowing players some leeway every so often can be equally rewarding.
Kinetic Electrical Hawke's Bay United soccer coach Chris Greatholder is an advocate of that after his troops thumped Southern United 6-1 in Dunedin on Saturday.
"I want my players to express themselves and show they can go for it," a delighted Greatholder said after the visitors went into halftime with a 2-0 lead at the covered Forsyth Barr Stadium during their ASB Premiership match.
"If they don't get it then no one in the team will go on about it behind their backs," he said of the Bill Robertson-captained Bay United, who sprang back up to second on the premiership table, three points behind leaders Auckland City but on equal points with Canterbury United in third place and on a better goal average.
The Bay forfeited three points to newcomers Wanderers Soccer Club last week despite beating them 2-1 away the previous weekend.
The Bay franchise had not completed the paperwork for New Zealand Football regarding the transfer of young Western Suburbs midfielder Harry Edge, the son of former international and ex-Waikato United coach Declan Edge.
Add to that the onerous flight from Napier to Dunedin on game day and a 12C Deep South summer and you start getting the picture.
With a spring in their step, the Luiz Uehara-coached hosts came on thick and heavy for the first five minutes.
But the visitors absorbed it well before dictating terms with Sean Lovemore, Ross Haviland and Tom Biss taking ownership.
Bay United broke the deadlock in the 19th minute when English import Aaron Jones nodded into the net past goalkeeper Tom Batty after a well-timed cross from American midfielder Sean Morris.
It wasn't until the 40th minute that young striker Nathanael Hailemariam stunned Southern when he chested down a ball from a cornerkick deflection.
With his back to the goal, he turned to thread the ball around his marker before drilling it under keeper Batty to make it 2-0. Lovemore and Hailemariam continued to create havoc and a goal from the latter was ruled offside in the 60th minute.
However, five minutes later, Hailemariam, who started the season as a bench player, made it 3-0 when he headed in a Morris corner that left Batty stranded.
In the 68th minute, Robertson and Bay keeper Richard Gillespie's blunder gifted Southern a goal, making it 3-1, when Taylor McCormack pounced on a misdirected pass from the centreback.
"Their goal was a horrible mistake and should never have happened," Greatholder lamented, adding that Gillespie didn't have much to do in the game.
But the Bay weren't done. In the 71st minute, Biss beat Batty with a loopy header after another Morris cross from the goalline on the right flank.
Robertson made it 5-1 in the 85th minute, after a goalmouth melee following a freekick from halfway.
It was a happy ending for homeboy Harley Rodeka and appropriately he had the final say in the first minute of added time to make it 6-1 from a crisp shot, although it was deflected off a player.
Rodeka, finding himself on the bench in the past two games, came on as a substitute for Lovemore in the 80th minute.
Greatholder named Hailemariam his man of the match, although Morris' clinical passing which led to goals must have been on the money, too.
"It was absolutely brilliant, very good, I'm very proud of my boys," he said.
"In fact it's the best day I've had as coach with Hawke's Bay United."
The players were coming to terms in working as a unit, rather than individuals.
"Sean Lovemore ran himself into the ground for about 80 minutes and realised Harley was on the bench so he came off."
Greatholder said it was difficult to pick a standout performer but eventually he went with Sudan-born Hailemariam, although he told all his troops they had all got nine out of 10.
He was delighted with Rodeka's goal considering he had his contingent of family and friends watching him.
"He ran to the bench as well to celebrate his goal," he said of Rodeka, who couldn't find the net last summer and also had to grapple with a switch to rightback, after Fergus Neil was injured.
Greatholder said that although Rodeka was new in the position he had licence to roam.
"I play an attacking brand of football so my defenders are allowed to run up to create opportunities."
In other games at the weekend, Auckland City beat WaiBOP United 2-0 at John Kerkhof Park, Cambridge.
Emiliano Tade found the net in the 38th minute to take the visitors into halftime with a sniff of victory but it took Darren White a minute into added time to seal the hosts' fate.
Canterbury United beat the Wanderers by the same margin in Christchurch with Russell Kamo scoring in the 38th minute and Michael White in the 85th.
At David Farrington Park, Team Wellington beat Waitakere United 3-1 with Joel Stevens drawing first blood in the 14th minute before former Bay United players Cole Peverley (60th) and Hamish Watson (86th) made their intentions clear.
Jordan Lowdon gave the visitors a flicker of hope in the 62nd but to no avail.