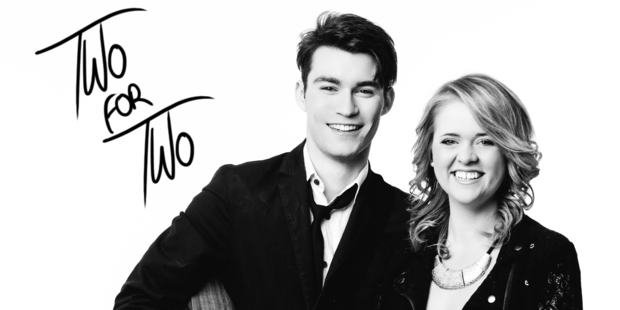 A family wrap at the Mission Concert next month has been completed with confirmation a Hawke's Bay girl making it good in Australia is coming home to share a night on stage with her dad and and some of their best friends.
Brisbane-based Kelly Mahoney, 22, forms duo Two for Two with partner Sam Luff and is a daughter of Pat Mahoney, bassist with evergreen Waipukurau band and previously confirmed February 15 concert support act Sir Duke.
She grew up with the music of the Toner family, and is friends with contemporary Samantha Toner, who will perform at the concert with mother Celine.
The Toners also have a link to Sir Duke, with the band's female vocalist, Janeene Toner (nee Ryder), having been married to Samantha's uncle Rick.
Pat Mahoney and Celine Toner have a musical history dating back at least to the early 1980s when they were together in the band Abstract, playing at the now long-gone Greenmeadows Hotel in Napier.
In 2006, Kelly Mahoney and Samantha Toner both performed in the Klassic Kids Benefit Concert put together by Kelly Mahoney's father and Samantha's grandfather, the late Jim Toner, to raise funds for Napier girl Matisse Reid's operations and long-term medical stay in the US.
Two for Two are billed as a corporate acoustic duo based in Brisbane, with Kelly Mahoney having last year completed a post-gradate diploma in jazz and Sam Luff currently studying a Bachelor of Music majoring in jazz voice.
Ms Mahoney said yesterday from Brisbane, where she's been living for two years: "I remember the Mission concerts when I was about 7-years-old, living around the corner."
But she's never been through the gates and said: "It is an amazing honour to be chosen to come back to the home turf to support such amazing acts."
Like Samantha Toner, she's got a thing with Mission main-bill artist Mel C, who she said was a "huge influence" when she was a child - "loving the Spice Girls".
Promoters have completed a four-act support package for the concert, the opening featuring a return of Wellington priest Fr Chris Skinner, who opened the Barry Gibb-Carole King Concert last year. He will perform with 2011 New Zealand female artist of the year and Christchurch singer Janice Bateman.
The pair collaborated in the Reason to Believe album released in September.