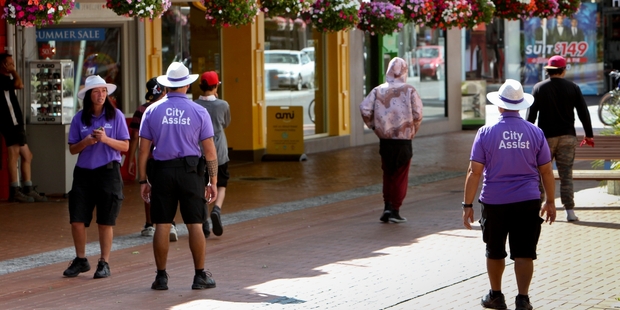 Retailers are eager for the Hastings City Assist guardians to remain in place following the expiry of their trial period at the end of the month.
The guardians were brought in as a temporary measure in September of last year to target issues with people loitering and shoplifting within the CBD.
Response to their presence has been positive, with many retailers hoping they will continue past the end of the trial period.
A spokesperson for the Hastings District Council said yesterday that a paper will be taken to the council on January 30 asking for funding to keep the service in place.
Retailer Bruce Dye hopes the guardians will stay put.
"They've been good, I want them to continue doing what they're doing." Another retailer, who did not wish to be named, said the guardians have been "excellent for the city".
"They definitely need to stay, it's been such a huge improvement since they started. We can call them if we see someone lingering around and they'll come and have a chat to them, or just keep an eye on them, or ask them to move on."
Two shop assistants called them "beautiful and wonderful".
"They should definitely stay and if they could get a Christmas bonus that would be even better."
Councillor Cynthia Bowers said the guardians have been "absolutely fantastic".
"They've exceeded everyone's expectations. I think they have been really good, the CBD has improved tremendously, they've lifted the whole atmosphere."
Mayor Lawrence Yule said the trial period has been a "standout success".
"We've had amazing feedback from shoppers, from shopkeepers, from visitors to the CBD. The people who have been doing it have enjoyed it too, they've made it much safer."
Mr Yule said early indications from councillors were that funding should be put in place to keep them in the city.
"What I'm getting is that they think they've been really good.
"We are effectively picking up a cost that should be borne by the state, through the police, but they are busy dealing with other crimes so there is a bit of a transference of cost to the ratepayers but I think the councillors believe it is worth continuing."