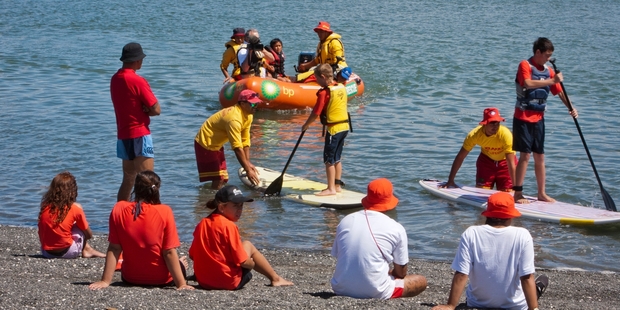 Jared Hiakita comes from Bay of Plenty, graduated with a BA in Maori studies from Otago University in Dunedin, and lives in Melbourne, doing social work with troubled Australian youth.
But this week he's right at home in Hawke's Bay mentoring youngsters in a water-safety programme.
During the past seven years, the programme has become something of a flagship in tackling nationwide drowning rates among Maori, with a message far wider than just getting children to swim.
He said it was "revisiting his mauri", the life-force of his own well-being and that around him, in this case mentoring the youngsters and serving in a role-model way which otherwise might be absent from some of the children's lives.
Youth worker Zack Makaore, from Te Aute, and who with Te Taitimu Trust has developed the project he initiated in 2007, talks of building the wairua, or spirit and confidence, of the youngsters for whom poverty is not so much about material things as it is about deficiency in resource and capability.
"The wananga is about teaching our young people to turn their lives around through the healing power of (Maori god of the sea) Tangaroa," he said.
"We're able to involve kids and families from hard backgrounds and beginnings and connect with them, turning the tide for their futures."
Despite what to some may have been a difficult concept, Water Safety NZ picked up on it and chief executive officer Matt Claridge said: "Maori have consistently been over-represented in New Zealand's drowning statistics, but initiatives like Te Taitimu Trust's wananga are driving cultural change."
Something must be doing some good, for provisional statistics show Maori drownings last year dropped to 15, from the five-year average and 2012 toll of 23.
In the same period, the wananga has blossomed, now a six-day camp, with about 100 children and 30 mentors from as far as Invercargill and Kaitaia, and of course across the Tasman.
There are other support crews, as the camp sees leaders of rival gangs working alongside each other and with police and others in pursuit of the same kaupapa, in some cases with children who travelled to Hawke's Bay in vans together, despite being from families with rival gang backgrounds.
As well, there are also members of the Uawa surf lifesaving club from Tolaga Bay. It draws widespread support, with Active Post the major sponsor, with other support from government departments, the University of Otago, Ngati Kahungunu Iwi, and the Eastern and Central Community Trust.
Mr Hiakita, 25, whose water initiation was mainly in the Tauranga River near Waimana and on the coast around nearby Whakatane, first came to the wananga in 2011, encouraged by a fellow student.
"It was my first experience of youth work," he said yesterday on the shores of Pandora Pond on day three of the camp.
"I loved it.
"She's been nagging me to come back," he said, explaining why he'd returned from Australia, where he works for not-for-profit organisation White Lion Youth Services.
Among the other mentors are Mongrel Mob Hastings president Rex Timu, and Tiny Osborne, who heads Hutt Valley's Waiwhetu chapter of Black Power, of which he's been a member for 26 years.
Ngati Kahungunu Iwi staff member James Graham, from Otane, and now a regular mentor at the camp, relishes the range of activities that contribute to the concept, with some evidence that some schools are no longer teaching the basics of swimming.
He reiterates that the principles of water-safety are about respect for it and its resources.
"By rebuilding our relationship with Tangaroa, we gain respect for the sea and understand our limitations," said Mr Makaore.
"That means saying our karakia, wearing life jackets, only taking the amount of paua or fish that we are permitted to take, understanding how to read the signs of the sea.
"It's about respecting Tangaroa and its bounty."
The children have a new base at Camp David, the previous camp at Tamumu having been sold.
They venture out and, tomorrow, it'll be a day at Pourerere for an extension of the activities which have included surf lifesaving, swimming, waka ama, paddle-boarding, fishing, diving and lifejacket skills, to early morning Zumba, poetry readings, and traditional Maori games.
Ahuriri kaumatua Fred Reti tells the children, in their groups, about the history of Napier's inner harbour and the surrounding area, and the children visit the processing plant of Hawke's Bay Seafoods.
But there seems a special place for the West Quay-berthed sail-waka Te Matau a Maui, where water safety ambassador Rob Hewitt, survivor of a three-day diving drift in 2006 and originally from Central Hawke's Bay, is among those who give a mean run-down on its ocean-going capabilities.
The children barrack as two groups unfurl the ra (sails), with the common approval: "Tumeke."