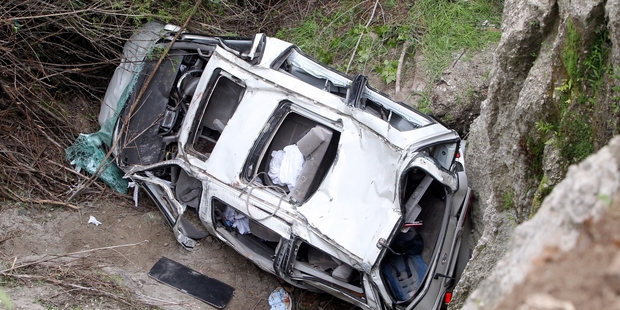 Now recovering at his Havelock North home, Sandeep Singh's mind is focused on getting the whole family back together after the horrifying crash he was sure could have tragically taken them apart.
"Every day everyone is getting better - we are all going to be all right," Mr Singh, 33, said.
"When I was in hospital, someone said to me 'someone was looking over you' - and they were right - someone was looking over us."
Mr Singh had been driving his van, with two friends and five members of his family who had flown over from Melbourne, back to Havelock North from Auckland when it went out of control on a moderate left downhill bend just north of Te Haroto early on the morning of January 2.
The van appeared to have struck a kerb before veering across the road, then flipping and rolling down a steep 15m bank.
Mr Singh said he was still not sure what had happened and that the moments of the crash as the van rolled were like a nightmare.
"We were not driving fast," he said, adding there was a "little bit of fog" but conditions were otherwise good.
"I have lived here for 17 years and have driven that road many times without any problems.
"It was the first time in my whole life I have had an accident."
Until that frightening moment, everything had been fine.
He and two friends had driven to Auckland the day before the arrival of his brother Jagtar, his wife, Suhkwinder Kaur, and their young daughters, Jaspreet and Amureet, and 6-month-old boy Manmeet.
The family, who had been living in Australia for the past 11 years, were bringing baby Manmeet over for the extended family in Hawke's Bay (where Jagtar was raised) to see for the first time.
Mr Singh said he and one of his friends shared the driving and had rested up well at Auckland for several hours awaiting the flight arrival - which was running two hours late.
That gave them additional rest time, he said. After greeting and picking up his brother and family he again shared the driving duties and they ensured they had good rest stops for food and coffee.
He was wide awake at the time the accident - which he still struggles to explain - happened some time around 6am.
The pain and confusion as the tumbling van came to a stop was compounded by the shrill horn sounding.
Despite battling chest and back pains, Mr Singh was able to get his door open enough to get out, and immediately began checking on everyone.
"I touched everyone - they were all talking - I had to get them out."
He feared there could be a fire and said he had to struggle, given the damage to the van, to get their seatbelts unbuckled.
He kicked at parts of the van to get everyone out.
The impact had caused baby Manmeet and his seat restraint to be thrown through the rear window.
After ensuring everyone was as comfortable as they could be, he tried to use his cellphone to raise the alarm.
"But there was no coverage."
He asked the others if they were OK and that he needed to get help.
They said they were all right, although their injuries later proved to be extensive.
He scooped up the baby, realising it would need the most urgent help, and began to clamber through the thick scrub to get back to the road. He can't remember how long it took, but adrenaline pushed him on.
"I was frightened and there was pain, but my heart is strong," he said. The patches of wild blackberry bushes in his path were no deterrent.
He sheltered the baby in one arm and clutched at the vines to get up with the other. "I still have them (blackberry thorns) in my hands."
When he got to the road, he saw cars coming and raised his arm.
A car slowed and he called for them to stop - "we need help".
He handed the baby to a woman in the car and collapsed.
Other cars and people pulled up, including an Indian couple, and calls for help were made.
The rescue, involving the Lowe Corporation helicopter and helicopters from Taupo and Rotorua, then began to get under way.
Jagtar Singh and his wife were critically injured, but fortunately the road to recovery was well under way, Sandeep Singh said.
He had spoken to his brother at the Burwood Spinal Unit and said he was upset, but he had assured him the family were getting better, and that his two daughters had been discharged.
His wife was still in Hawke's Bay Hospital's high dependency unit but was improving.
"She is talking and has been able to have a little bit of a walk."
Baby Manmeet, who is active and smiling, is staying with her.
While it was not known how long Jagtar's recovery from serious back injuries would take, Mr Singh said he told him he was feeling better every day and had been able to move his legs.
One of his friends had been discharged and the other was continuing to recover in Hutt Hospital.
"Everyone is getting better," he said.
"And I want to get back to work next week but I can't for six weeks, because of my back problem."
He works for fruit grower and exporter John Bostock as a driver and machinery operator.
But the number one thing now was getting all the family together again.
"Maybe next week - day by day," Mr Singh said.