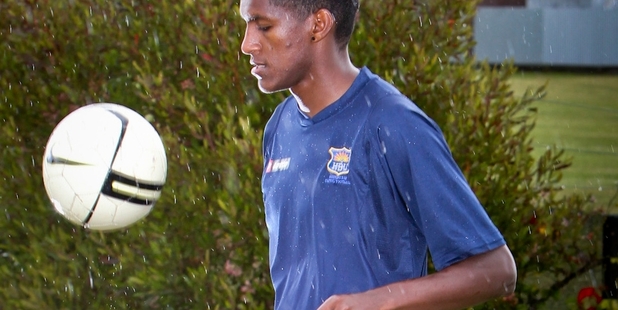 WHEN Nathanael Hailemariam was a youngster he didn't like playing soccer that much.
"Dad used to push me quite a bit and trained me every day in the backyard," says the Kinetic Electrical Hawke's Bay United striker. His team resumes the ASB Premiership after the Christmas break against newcomers Wanderers Soccer Club at North Harbour Stadium, in Auckland, tomorrow at 3pm.
"There was a lot of ball kicking in the backyard of our home and I didn't like it at first.
"Dad said if I wanted to be good at the game I had to start young."
All that, of course, changed when Hailemariam turned 7 because what was initially "too much hard work" soon became enjoyable as he took on board the finer details of the beautiful game.
"By the time I was 7, I was kicking a ball around before school, during lunchtime at school and after school."
Born in war-torn Sudan, Hailemariam settled in Auckland with his Ethiopian parents, father Andualen, a technical engineer, and mother Asrat Belay, a mental health nurse, when he was a 1.
"In Sudan, the life was tough. I don't know the full story because I was very small but we have a better life out of Africa," says the 19-year-old who has a 15-year-old sister, Hanna, born in Auckland.
Soccer is the No 1 sport in Africa, so Hailemariam reckons he "grew up in the game of football".
"I have a natural love for the game because of my background," says the striker in his debut season with the Chris Greatholder-coached Bay United.
His father played the game but was a defender.
The former deputy head boy of St Peter's College was asked to play at the coal face when he turned up to play for Metro Soccer Club in Auckland.
"When I was younger, I was a lot faster so they put me as striker."
In those days, his parents watched every game he played.
"They were my 100 per cent supporters and they also went on a tour of Argentina with my high school team."
Bay soccer fans are familiar with the lanky player who plays for Lower Hutt City in the premier winter competition, the Lotto Central League.
He also made giant strides during the Bluewater Napier City Rovers' annual under-19 youth championship.
He ended up with Bay United after talking to Canaries coach Brendon McIntyre who was assistant coach to Jonathan Gould in the Wellington Phoenix A side for two seasons.
"Brendon said I needed some ASB Premiership experience so I got talking to Jonny Gould," he says, adding training and playing for Bay United in the summer national league will put him in good stead to train with the A-League hopefuls in the Phoenix squad.
The Bay franchise has left an indelible impression on the teenager who comes off the bench as an impact player.
"It's a great club, the environment and people are friendly and the coach knows his players really well."
While no player enjoys coming off the bench he's mindful it's better for the team and finds comfort in the fact that he makes a difference when injected - although he hasn't scored any goals yet.
"It's very frustrating especially when you're a striker because it's your main job to score goals," Hailemariam says with a laugh, unaware during the interview that he would make his starting debut tomorrow.
A player who is right-footed but can use his left when required, he sees his role as someone who will find the net if the opportunity arises but someone who is equally adept at unselfishly creating space to feed the ball to his fellow foragers to score.
"I'm someone who'll create havoc in the park," says Hailemariam, who returns to Lower Hutt this winter but would love to be back at Bay United next summer.
Embracing professionalism in soccer means he leads a disciplined life.
"You learn how to make sacrifices. You know when you can go out with friends and when you can't.
"During Christmas, I stayed fit and looked after my body when I visited my family in Auckland."
Hailemariam has enrolled at Victoria University to pursue a degree in computer science from March.
The 2-1 loss to Team Wellington at Park Island, Napier, was gut-wrenching for captain Bill Robertson and his men.
"It was a heartbreaker but we learned from it very quickly and the more experienced players got us through with draws against Waitakere United and Auckland City with their leadership."
Bay United are positioned in fifth place on the premiership ladder but are equal on 11 points with Canterbury United and Auckland City who sit above them on goal difference.
Centre back Robertson, who collected a red card after picking up two yellows in their last outing against Auckland City at Kiwitea Street just before Christmas in the 4-4 draw, will serve his one-match suspension tomorrow as fellow back Aaron Jones slips on the armband.
Coach Greatholder, who historically led Bay United to their maiden play-offs in the nine-year existence of the premiership, also returns at the helm after a self-imposed break last month to combat the effects of burnout.
He had made two trips to Wellington last winter to see Hailemariam play for Lower Hutt.
In signing him, Greatholder impressed he would come off the bench as an impact player.
"He's a great lad ... he's come off the bench in five games and in three or four he's made a change and he brings a bit of that x-factor."
Like Hailemariam and Jones, defender Fergus Neil also gets a chance to return against a youthful side after breaking his jaw in round two in November.
Greatholder said he wouldn't have played him had it been a physical side.
"I spoke to Aaron who has just turned 20, but he's a big lad and we tend to forget that sometimes. He'll have the help of [goalkeeper Richard] Gillespie and others to organise the backs and check their discipline."
The Wanderers, who are national reps with an average age of 18, are on the bottom of the table.
The Darren Bazeley-coached side, in their maiden season in the premiership, will be desperate to break their drought and post their first victory.
"We've played quite well but we've lost games by a goal, bar Waitakere," Bazeley said last night.
He expected Bay United to be physical but accepted that was something his lads had to come to grips with.
"For some of them, it's their first taste of senior football."
Bazeley said his opponents were expecting to break into the top two this summer and his team were mindful of their draws against the O-League sides.