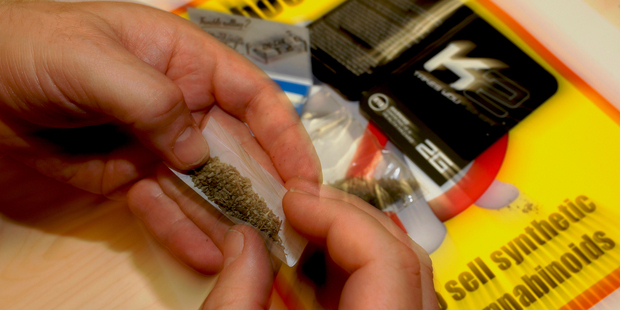 Synthetic drugs are gaining a serious foothold in the local cannabis trade, highlighting the increasing popularity of legal products over illicit substances, police say.
The warning follows an audacious robbery of a synthetic cannabis stockist in which two men threatened a female cashier with a screwdriver and made off with a substantial quantity of legal high product.
Police said the pair were wearing hooded sweatshirts and walked into Adult Selections on Heretaunga St about 10am on Saturday, threatening the lone employee with the screwdriver and forcing her to hand over cash and legal highs, which they carried out in plastic bags.
"It's such a sought-after commodity, it's competing heavily with the cannabis trade here, because it's a legalised high people are more inclined to go that way, regardless of the side effects, rather than being dealt with for a criminal offence," Detective Sergeant Mark Moorhouse said.
It also raised issues about safety of employees at the store and other businesses stocking similar products.
"We are concerned it's an opportunist act, where they are selling this stuff in the quantities that they are, there is a high risk of someone getting hurt."
With their faces covered by red bandanas, the robbers fled Adult Selections in a dark-green Honda Accord, which was driven a short distance to a block of flats on the corner of Miller St and Avenue Rd East, before being abandoned.
"They got into another vehicle and we would like to hear from anyone with a description of that second car," Mr Moorhouse said.
"Some of the [synthetic drugs were] found on the ground."
Police believe a Honda Accord with the licence plate EML959 used in the aggravated robbery might also have been stolen.
Hastings Deputy Mayor Cynthia Bowers said while robberies could happen anywhere, an increasing demand for synthetic highs contributed to a higher risk.
"I suppose the nature of synthetic drugs could perhaps increase the potential for users to become desperate in trying to obtain it.
"That risk would be the same wherever the sellers were, it just happens that with our rules they are located in the central business district, although I think that's preferable to them being in, say, a residential area." Banning legal highs altogether was something Ms Bowers felt strongly about, having submitted a petition to Parliament containing 1040 signatures following an anti-psychoactive substances protest in Hastings CBD in September.
"When you have robberies happening at that hour on a Saturday when people are just going about their business, personally I think it's another outcome or symptom of the situation we have got where the Government have legalised the sale of synthetic drugs - it's just another part of the puzzle.
"They have received our petition and have asked for some more information which we are sending later in the month," she said.
"All these things are adding to the story we are trying to tell."
Police were continuing their investigation into the incident, and asked anyone who may have seen suspicious activity or know of the offenders to come forward with information.
Anonymous tips can be left with Crimestoppers: 0800 555 111 or call Hastings police station on (06) 873 0500