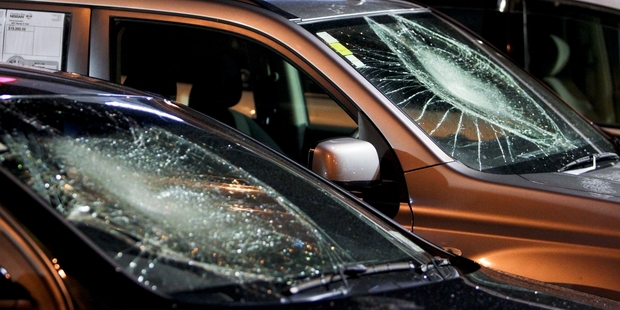 A Hastings car yard faces a hefty repair bill after five vehicles had their windscreens smashed in a brazen overnight vandalism attack.
The vandalised cars were on Hawke's Bay Nissan's Heretaunga St lot. A police dog unit attempted to track the vandal shortly after the attack was reported on Wednesday night, but the trail was lost.
Constable Jeff Attwood said police were checking security camera footage from cameras in the area and had not yet made an arrest.
Mr Attwood said although car yards were always vulnerable to acts of vandalism, the Heretaunga St incident was "pretty brazen" given the area was well-lit at night, and was in an open area on one of the city's busiest roads.
Hawke's Bay Nissan dealer principal Richard Sumner said the cost of the damage would not be covered by insurance because it was impossible to insure against such acts.
"We've had no trouble for a long time and then we've had two lots of vandalism in the past six weeks," Mr Sumner said.
In the previous incident at the car yard, three vehicles had their door panels kicked in, causing about $3000 damage to cars.
Mr Sumner estimated the new damage bill could be between $3000 and $5000.
"It's not malicious in terms of the dealership, I don't think. It's probably just kids who think it's great fun."
Mr Attwood said anyone with information on the crime should contact Hastings police.