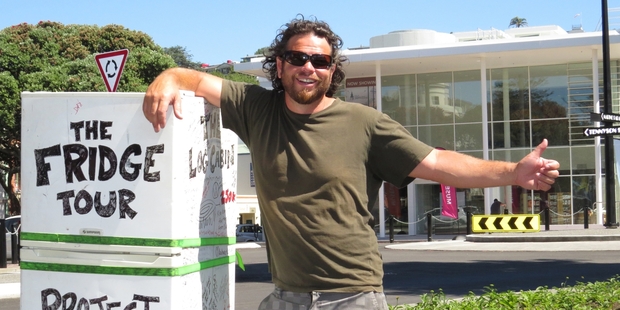 It seemed like a fairly cool idea at the time - hitchhiking up and down New Zealand, with a fridge.
Believe it or not, adventurer Rob Cope, with a final run down State Highway 2 from Hawke's Bay through the towns of Wairarapa and over the Rimutaka Hill, made it home to Lower Hutt in time for Christmas.
But after almost two months, from Wellington to Bluff, and up to Cape Reinga, the goal was not so much about making it back to the capital as making a point, or, more to the point, drawing attention to a number of points that he's made in his book Men Wanted for Hazardous Journey.
It's 128 pages dedicated to his Project Wildman mission to get blokes talking more among themselves about their issues, and, at the same time, resolving his own.
At 40, split from his wife after a marriage which produced three children, he is in the lengthening throes of establishing what's gone wrong.
"I'm on a hazardous journey through manhood - heading towards the husband, father and man I want to be," he writes in the last paragraph of a tailpiece on the back cover, "and it's **** hard."
It is equally, but not as expletively, stressed thus, and the Project Wildman groups he's established, are not "new-age" stuff, nor are there Christianity connections in the biblical sense.
A "hard-hitting" look at manhood in New Zealand, he has called it, but most of all it's about the future path.
The New Zealand bloke tends to wallow through the personal stuff uncharted, group discussion tending to be over a beer and about how the All Blacks played in the last game.
The book highlights some tragedies - extreme to everyday - which he believes have roots in the emotionally "absent" days of the New Zealand bloke and his son.
Some emerged from the groups which established in his garage at the first invitation for men to get together and talk.
A truck driver, an electrician, a lawyer, a business coach; married, single, children, no-children, he notes, and hopes the tide is turning: "Men don't come to my garage because I have the answers; they only come because we have similar questions, and we are ready to voice them."
The last day from Napier was one of the better days, the first ride on a ute from the Napier boundary to the other side of Hastings, the next to Woodville with a policeman and an empty horse float headed to Wellington.
The next vehicle to stop was someone who'd seen him on TV.
There was a particularly happy ending, for when he arrived home, after 4500km and having travelled atop coal trucks, in horse floats, on utes and a variety of modes of transport, his trusty Simpson still had the use for which it was originally designed.
"I plugged it in at home and it worked," he said.
But apparently it's become as restless as some of the blokes of those Kiwi blokes.
Having returned to work as a builder, while also working on selling out a second 500-copy print of the book, Mr Cope says: "I'm thinking of going across the States in May... Yes, with my fridge. I've got a lot of planning to do."
Further information is at projectwildman.co.nz