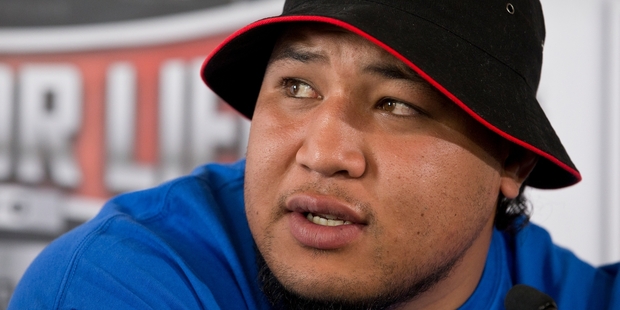 You could have mistaken Ben Tameifuna for having won his fight as a smattering of supporters asked him for autographs and photos in Auckland.
The former Hawke's Bay Magpies player found himself on the wrong side of two of three judges in the union v league undercard match-ups in the Fight for Life at Trusts Stadium, Waitakere, on Saturday night.
"I came into this more with a fitness mindset so I wasn't too worried about the result tonight," said the 22-year-old Chiefs prop who also slipped on the jersey for Waikato during the ITM Cup competition last winter.
"I obviously wanted to win to try to get one on the belt for the rugby union boys but it's all for a good cause and I can speak for the rest of the boys who put their bodies 24-7 on the line."
The charity fights were a build-up to the main professional bout between New Zealander Shane Cameron and American Brian Minto.
However, in the undercard bragging rights rugby union again came up short, albeit amid controversy.
The opening bout between TV presenter Stephen McIvor (union) and print journalist Steve Kilgallon (league) ended in a draw after three rounds but the packed stadium, if cheers are anything to go by, felt McIvor had won.
The judges came under further scrutiny when they ruled in favour of Brisbane Bronco Sam Thaiday over Hastings-raised Tameifuna.
Two judges had only a point separating the pair for a tie but the third gave Thaiday a three-point margin amid jeers before an unofficial chorus of approval for Tameifuna.
Kangaroo Paul Gallen kept his unbeaten record, out-pointing All Black Liam Messam in a closer affair compared to last year when he overwhelmed Bay-born Chiefs hooker Hika Elliot.
In the battle of retired international cricketers, a better-prepared Chris Cairns beat fellow commentator Simon Doull who looked spent but nobly put his hand up to fight for a charitable cause, Kids Can, when a Shoaib Akhtar proposal didn't find traction.
Doull batted for Cairns who is reportedly facing allegations of an ICC match-fixing inquiry.
"He's innocent until proven guilty," Doull said.
Having travelled to Tonga this year already, Auckland-born Tameifuna wasn't intending to visit the islands again until next year. He also thanked his fans for their support.
"It's back to work on Monday for rugby training," he said, hoping to help the Chiefs claim a three-peat of Super Rugby titles.
Cameron retired before the start of the eighth round against Minto.
The 36-year-old, who had predicted an all-out brawl in the pre-match hype for the vacant WBO Oriental heavyweight title fight of the Duco Events promotion event, found himself in a dust up but forgot to take his knuckle-dusters.
The 38-year-old Pennsylvania professional opened the fight with unbridled aggression, forcing Cameron to the ropes at will.
It was Groundhog Day as Minto opened a cut above Cameron's left eyebrow in just the third round and the Kiwi's camp seemed to be without a plan B.
To Cameron's credit, he started jabbing in round four but it was too little, too late. It also raised questions on the impact of a one-year layoff after his cruiserweight loss to Danny Green.
Referee Lance Revill deducted points off Minto for using his elbows and headbutting that didn't detract from the fact that the winner had outclassed Cameron.
Cameron's manager, Ken Reinsfield, said the cut impaired his fighter's vision, rendering the fight futile.
New Zealand trainer Kevin Barry, who was in Minto's corner, didn't think his fighter should shoulder total blame for his in-your-face stance.
"He's a short guy who has always been fighting taller opponents so he can't stand on the outside. He fights you on the chest."
It didn't help that Cameron kept tying up his fighter, the Las Vegas-based trainer said, prompting the American to up his aggression. If anything, Barry was expecting Cameron to "box more".
"I didn't expect him to spend so much time on the ropes as he did but our game plan was to get him on the ropes."
While the Cameron camp announced their fighter would "enjoy Christmas" before making any decisions, it wouldn't surprise fans if he hangs up his gloves in the same mould as David Tua did several weeks ago after losing to Belarusian Alexander Ustinov in Hamilton.
Some feel a Tua v Cameron rematch may be a crowd puller - after Tua left the Mountain Warrior in a bloodied, battered mess in their only clash - but it remains to be seen if the retired Samoan will even entertain such an offer.
Barry, who trained Tua before they ended up in a much-publicised legal battle over contractual issues, begged to differ, although he emphasised he wasn't working with either fighter.
"I don't think it's a fight anyone wants to see. I'm a boxing fan and it's definitely not the sort of fight I'd want to see."
Asked if promising heavyweight boxer Joseph Parker was in the mix to fight Minto, Barry replied: "Joe Parker may very well be one of them."
Parker told Hawke's Bay Today after the fight he had no qualms about fighting Minto.
The American is likely to appear as an undercard fighter in Parker's feature bout in March and will "possibly [fight] Parker in June or July".