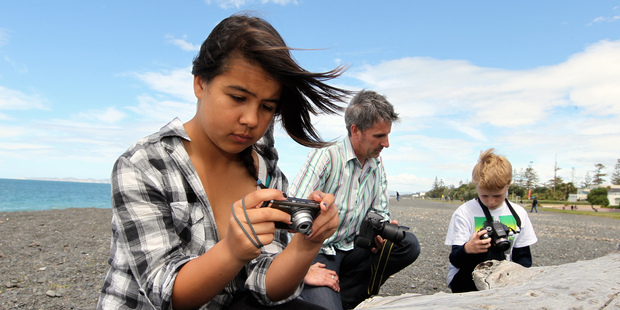 Four young peoples' musical determination to do their bit to battle bullying has resulted in their school being presented with a $500 cheque for the youngsters' on-line rendition of Don't Hide Behind a Smile.
The Maraenui Bi-lingual School students were the most popular of 86 groups who made on-line recordings about the anti-bullying cause at a stand set up by the Waiohiki-based AWA Transmedia Studios at the Hawke's Bay A&P Show in October.
The Don't Hide Behind a Smile phrase was coined by Taradale High School student Kate Gear as part of her research into bullying in homes, schools and in public places.
It struck a chord with AWA Transmedia, spokesman Tareha O'Reilly said, and was accordingly picked up and supported.
"Bullying is a serious issue and has been linked to young people staying away from school and even as a cause of youth suicide."
AWA, which stands for Aroha (love), Whanau (family) and Awhinatanga (community support), has been running a Hawke's Bay-wide campaign to counter bullying through the use of social media.
To promote the message AWA has used the skills of local rapper Tipene Harmer (aka Westside Hori) as a facilitator and MC, and performances by Australian boy band YMS (Young Men Society) at local schools including Taradale High, Napier Girls High, William Colenso College, and Flaxmere College.
More than 3000 young people had participated in live events as part of the campaign.
Mr Tareha said while the competition-winning work was the effort of four students, the prize money had gone to the whole school.
"It is a way of thanking them for their efforts and will help continue to re-instil the message - it does not end here. It is ongoing."
He said the on-line renditions had been archived so that in years to come to come the youngsters, when adults, will be able to reflect on what they had achieved.
* Online efforts have included a video called Can you Feel my Pain? recorded by Garry Crawford and Mokoia Halbert, and has featured cameo appearances by people talking about issues associated with bullying. Videos can be accessed through awatransmedia.com and www.facebook.com/ArohaWhanauAwhitanga.