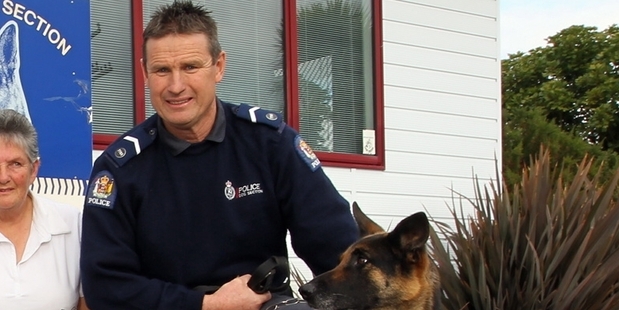 After nearly a decade on the front line, and a role in Napier's Chaucer Rd siege, one of the Hawke's Bay Police's most popular and respected "officers" has retired.
Police dog Fi, who was trapped in the police dog van during the Chaucer Rd siege and is the dutiful policing companion of handler Senior Constable Grant Diver, has gone into well deserved retirement, although she makes it clear to Mr Diver every morning when he takes off for work that she'd like to go along also.
"Although she's enjoying retirement at our rural block in the Bay old habits die hard," Mr Diver said.
"She can still be found waiting at the back of the dog van most mornings hoping to be taken to work."
Fi was with Mr Diver on the morning he and Senior Constable Bruce Miller and the late Senior Constable Len Snee went to the Chaucer Rd home of Jan Molenaar in May 2009 on what had been a planned routine search as part of a drug enquiry.
The day turned to tragedy with Mr Snee killed and both Mr Miller and Mr Diver suffering serious, life-threatening gunshot wounds.
As Mr Diver was later helped to safety Fi, who started working with him in September 2005, was trapped in the back of his van.
In the wake of the seige Hawke's Bay dog patrol officer-in-charge Sergeant Allan McRae said Fi's silence for the 37 hours she spent in the back of the van as Molenaar sprayed shots across the Breakneck Rd gully surprised even police.
"It was very unusual for her. She is quite a vocal dog," he said.
While many feared Fi must have died, specialist staff mounted a targeted rescue effort for her. She had not been fed or watered since the constables had been shot by Molenaar.
As soon as she was freed she was raced to a vet for a full medical where she was found to be in "excellent condition" although dehydrated.
She was later reunited with Mr Diver who was in Hawke's Bay Hospital.
Fi was born in 2004 at the Police Dog Training Centre at Trentham and graduated from the Police Dog training centre.
"With me as her handler as a drug detector dog in September 2005, and that career has ended here in the Eastern Police region," Mr Diver said.
He said she had a largely uninterrupted career, apart from the forced layoff for a year after the seige incident as he convalesced.
"She was an amazingly resilient dog, maintaining good health and completing more than 1100 drug searches during her career with more than 350 offenders put before the courts on drug matters," Mr Diver said.
Mr Diver is now working with nearly three-year-old Saru who he has been putting through her paces for about six months.
"She's still a newbie and learning the ropes, but she's got tons of energy."