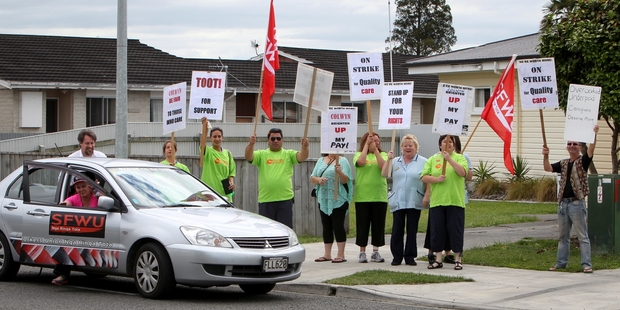 Aged care staff at Hastings' Colwyn House took action yesterday, beginning their proposed strike for increased wages while families are being reassured residents will not be affected.
The strike action comes after six months of negotiations for a pay increase.
Union workers claim they are paid little more than the minimum wage and are fighting for a pay rise. The rates start at $13.85 - just 10c higher than the minimum wage - and go to $15.
Services and Food Workers Union (SFWU) delegate Margaret Moody said two strike actions took place yesterday, from 11am-12pm and 4pm-5pm.
"It was quite an eventful start really. We are meeting with management on Wednesday to discuss our demands and we are hopeful the negotiations will be successful, otherwise we will keep striking through to Friday," she said.
Anglican Care Waiapu chief executive officer Peter O'Brien said the company, which operates Colwyn House, continued to work closely with the union.
"The SFWU are looking for a 3 per cent increase in wages and whilst the strike action is intended for five days, two hours per day, we are hoping to engage in positive mediation talks later this week.
"I can reassure the families of residents at Colwyn House in Hastings that the standard of care will not be affected by the strike action and we have notified the families that the provision of care will continue to its high standard."
The strike consists of 25 union members, with more joining the campaign daily.
Ms Moody said the care of the residents at Colwyn House was not minimised as a result of the strike.
"We are trying to keep the residents safe.
"We won't leave until we have finished all our duties and we don't start striking until our jobs are done, but we will keep striking for as long as it takes.
"The increase in pay for workers will only be about 50c, but it all helps," she said.